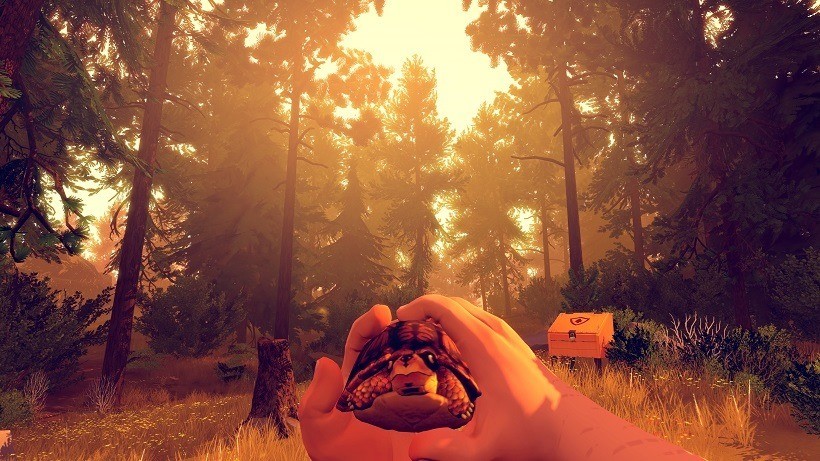 Firewatch is undoubtedly one of my most anticipated titles of the year, and I'm even more excited that I don't have to wait long to get lost in the Wyoming Wilderness in the 1980s with Henry and his walkie-talkie. If you're unfamiliar with the adventure game from Campo Santo, Firewatch seems to take exploration to heart – giving players a large mountainous area to explore while solving what looks like an increasingly eerie mystery involving you and other rangers in the park.
Turns out though that this adventure will feel a lot like a mini-series in that regard, with the entire experience expected to last around six or so hours. So says Campo Santo designer and programmer Nels Anderson, who explained that players looking for mostly just the main story can expect their adventure in the colourful wild to last just under what a trilogy of films would.
"On average, I'd say maybe 5-6 hours … ? When I play it, it feels comparable to the length of a trilogy of movies or a TV mini-series."
That's close to what I expected at least from it, but I'm glad to hear that there's hopefully some reward for players who like to take a closer look at things around them. I'm betting on a lot of the story to be fleshed out even further for players who choose to take their time with things – especially if the Wyoming Wilderness has some dirty little secrets to tell.
Aside from story length, Anderson also explained why Firewatch doesn't have VR support (and probably won't have for the foreseeable future). He reiterated that programming a game for monitors and one for VR are extremely different and simply porting Firewatch over to the likes of the Oculus Rift or PlayStation VR wouldn't be a simple task. but it isn't one that is completely ruled out.
Firewatch is out in the busiest week of 2016 so far, launching alongside the likes of XCOM 2 and EA's Unravel. It's out on PS4 and PC come February 9th.
Last Updated: January 11, 2016