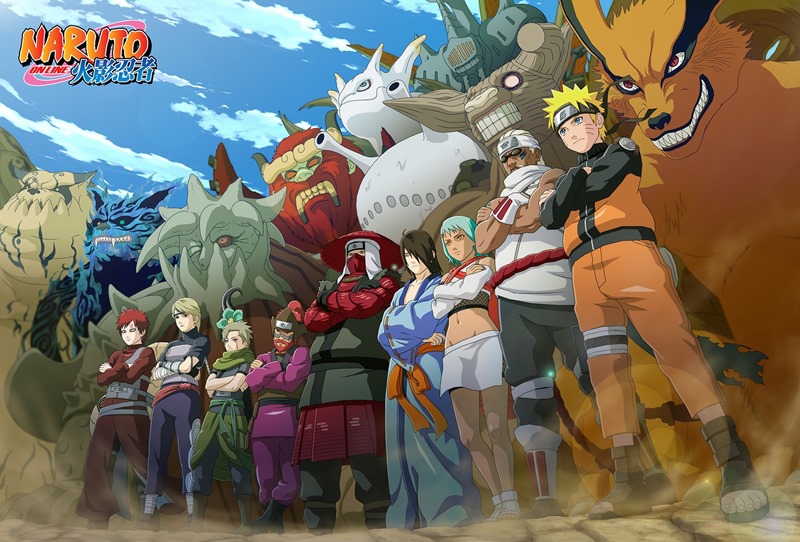 ALL YOUR FAVOURITE MANGA COMICS ARE DYING! It's a funny world we live in right now. If you grew up with weekly doses of manga when the Japanese pop culture phenomenon went global, then you've probably got the big three to thank for that love of all things Shonen Jumpy: Bleach, Naruto and One Piece. While One Piece will most likely never finish, the end is coming for Bleach. But it was the Naruto series which took a bow first last year, as the long-running core manga wrapped up last year.
But that doesn't mean that we're going to see fewer games in the future based on those Shinobi Shenanigans. Hell, as Kruger once said in Elysium; "We're jest getting storted". And that's because the Naruto MMORPG is headed west for anyone who has a PC capable of playing it. Oasis Games announced that Naruto Online will be available in western territories from July 20.
Naruto Online spans all nine major arcs of the anime and more, while players get the choice of slipping into the boots of one of five characters based on their elemental affinity: Earth, Fire, Wind, Water, Heart Lightning. Combat is turn-based and parties are built from characters recruited throughout the Naruto universe and roster. The key combat comes down to the Bonds-system, which allows built-up friendships to create more powerful combos and probably at least an entire episode's worth of a flashback about how friendship is the bestest best.
Although I might have made that last part up. Otherwise, it's a pretty faithful game! Original voice actors feature aplenty, the locations are straight out of the comics and large-scale boss battles aren't exactly uncommon. Believe it. Now if you'll excuse me, I need to go get my heart ready for next year when the Gintama manga comes to an end.
Last Updated: July 14, 2016