Injustice 2 has a risky gambit in place. While it is the better version of Batman V Superman, developer NetherRealm hasn't been content to just throw some super-powered new textures and spandex into their Mortal Kombat X engine for this sequel set in a universe where the line between good and evil has become somewhat blurred. The key hook to Injustice 2 is that every battle will define you. Specifically with rewards in the Gear System, a feature that doles out pieces of armour to players which can buff their character or layer cosmetic differences upon them.
And that's an interesting system. But for a game set in a genre where balance is key, it's also a potential headache for the eventual online space where the majority of the game will be played by fans.
According to Injustice 2 designer John Edwards however, the team at NetherRealms has created a variety of solutions to this potential problem. Edwards confirmed that you can disable stat boosts when playing both online and off, an option that reduces all stats to their default levels and turns any equipped gear into purely cosmetic items. "We imagine that will be primarily for high-level tournament players and things like that where you play ranked online," Injustice 2 designer John Edwards explained to GameSpot.
Even for the competitive modes where we allow stats to be active, both players have the option to disable that stuff.
Simple solution then. Look good while not benefitting from an unfair advantage in a purely singles match. Easy. But if you're looking to play with Gear stats that grow with you, there's a system for that in place as well to even the playing field. "What we do is, we automatically boost up the lower-level character's base stats to the same level as the higher-level character," Edwards revealed.
But the gear does not get boosted, so the player who has invested a lot of time in building up the gear for their level 20 character will still have better stats, better abilities than the level one character does. But it won't be to such an extreme that the lower-level character has no chance.
This system can also be turned off if you choose to do so, as NetherRealm has focused a lot of their efforts on making the Gear System a feature that won't hinder the balance of Injustice 2. "Essentially we have lots of ways in the game to make sure that [gear] does not become an issue," Edwards explained. "We also have lots of different ways you can get gear," art director Steve Baron added.
You can get gear randomly at the end of some fights. You can get gear in certain single-player game modes. You can get gear out of our Mother Boxes, which are chests. There are definitely ways that you can see particular pieces of goods you want and actively go towards those things.
Or to sum it all up in a more roundabout way, Gear is an incentive to keep on playing so that you can tailor your character to enter an arena with a certain look and feel. "One of the things we want to have people do is, when you are playing online and you see someone you are fighting against with really cool gear, you say, 'I want that helmet, how do I get that?' And talk with that person," Baron said.
And that would rope people into playing some other game modes and experiencing some other content that maybe they wouldn't have normally gone to. DC gave us a lot of freedom to design what we wanted. So you'll see a lot of classic elements that we pull in there. Like we got the red sonic Superman in there. You can kind of pick and choose the gear you want.
"You don't want to get so crazy where it's goofy or doesn't look like Batman should be wearing that. For super serious Batman stuff, he's not going to have top hats and weird things like that. " Edwards chipped in.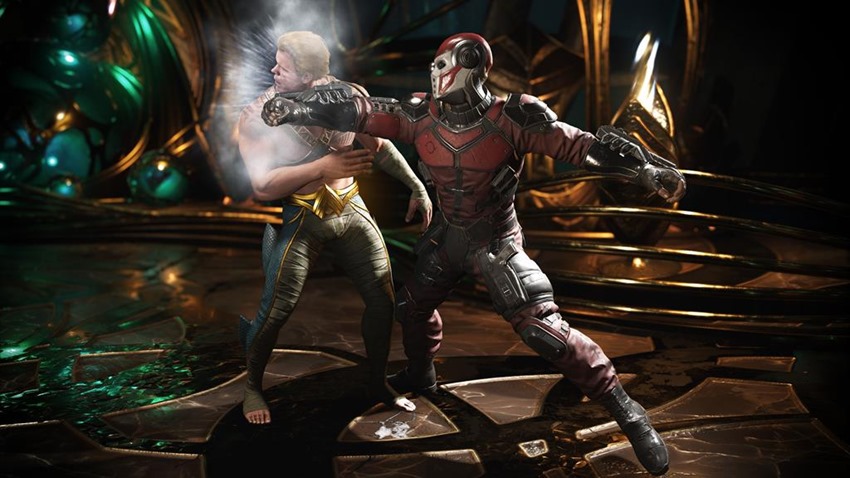 For super serious Batman stuff, he's not going to have top hats and weird things like that. But for some of the characters, there is definitely some boundary-pushing. I'd say there are definitely some characters that it kind of fits on, like Harley. Some of that stuff is actually hilarious.
Injustice 2 drops onto PS4 and Xbox One on May 16, with characters such as Doctor Fate and Cyborg recently confirmed for the roster. And dammit, my Harley Quinn will be the prettiest one of them all.
Last Updated: March 6, 2017