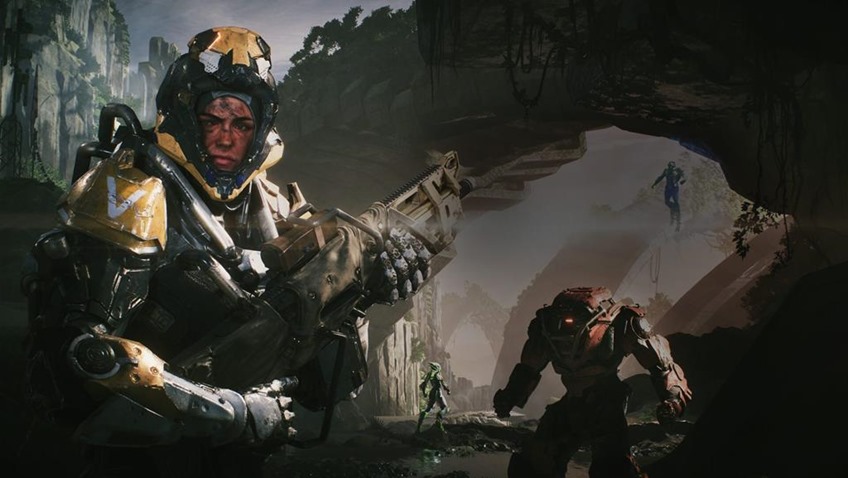 Bioware's Anthem has pretty much been marketed as a Destiny-killer, which is a heck of a bold statement. If there's one thing that Anthem can do to give fans an alternative that opens up a can of space-whupass on Destiny, it's actually rather simple and plays exactly to Bioware's strengths: Give the fans a story that's worth sinking their teeth into.
Destiny's current narrative may be significantly meatier than the bare bones scraps that were handed to players in 2014, but the series still has a tendency to wrap itself in wishy-washy vagueness that explains absolutely nothing. With Anthem, Bioware is looking to avoid those pitfalls as they introduce players to a world that is currently under siege by the Monitor (Not that one, DC Comics fans!) and his legions of followers who form the Dominion.
Here's the Game Awards 2018 trailer showing off the fight to survive, as players team up with the Freelancers to push back against the Dominion and help contain the power of the Anthem of Creation:
At it's core, Anthem's tale will tell of the war between the Dominion and the Freelancers, two groups who are diametrically opposed to one another over just how to use the mythic Anthem of Creation. "They believe the way to keep people safe is to keep them well-heeled, keep everyone on a short leash," Anthem creative director Jonathan Warner said to Kotaku.
That's their objective—they want to bring peace through force. I want people to think of our story with two lenses. One is the story of the struggle against the Monitor and the Dominion, which has a beginning, middle, and end. And then there's the story of the world conflict.
It's not an easy task to undertake, as Anthem is following in Destiny's footsteps and attempting to create stories which are fun to repeat and grind through for rewards, thus creating campaigns which carry emotional weight and simpler activities that serve as loot-drop activities. Combined with a promised and aggressive DLC schedule that will drop new content on a regular timeframe, Bioware is going all in on Anthem and their own future as a studio as players engage in the war between the Freelancers and the Dominion.
Last Updated: December 7, 2018