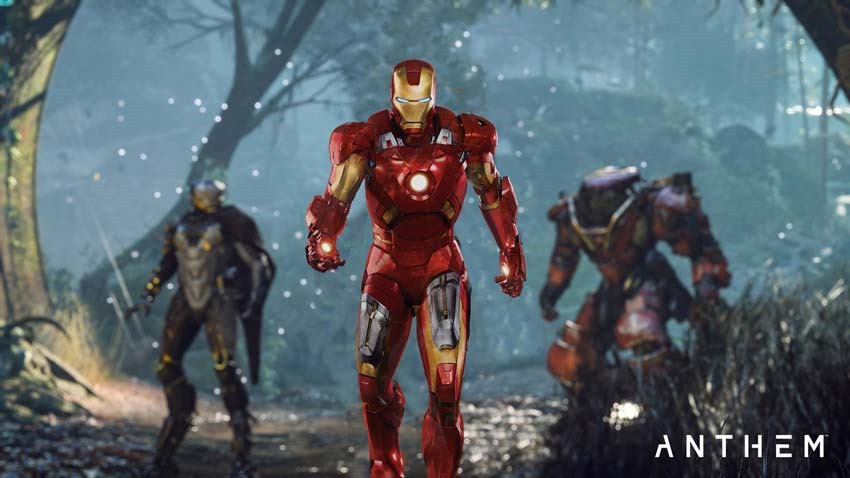 Dammit, it's happening again. I'm about to be sucked into a world where enemies bleed actual maths from their heads and I find myself caught up in a loop to math harder as I spend hours researching the best builds and loadouts for an action game that leans towards the RPG side. It happened to me with Destiny. It happened again with The Division and I'm starting to get that urge yet again with Bioware's Danthem.
I mean Anthem. While I do fully understand certain criticisms for the game, I kind of do want to give it a whirl at the same time. Some of the press who I chatted to at E3 who had managed some hands-on time behind closed doors told me that while Anthem's setup may not be the most original idea under the sun, it was still a game that fundamentally was a blast to play.
That's thanks to the game's key selling point: Its mechnificent suits that give players a range of offence for the dangerous terrain ahead of them. Handcrafted suits of armour for a bold new age, Anthem's Javelin armour comes in a variety of damage-dealing flavour. Over on Twitter, executive producer Mark Darrah had a few answers for fans, detailing how Javelin suit loadouts would function.
Essentially, while players can have a variety of Javelins with custom loadouts, the one you choose for a jaunt out into the wild will lock you in until you return to base. No swapping suits on the fly, as the Iron Man comparisons end with a three-point landing in Anthem.
The pilot of the Javelin is your Freelancer that you will create. You can fly any of the 4 Javelins https://t.co/QJwnzUJcbD

— Mark Darrah (@BioMarkDarrah) June 26, 2018
You unlock each by doing a mission. https://t.co/o5jXICQYbf

— Mark Darrah (@BioMarkDarrah) June 25, 2018
Darrah also revealed a few other tasty tidbits regarding Javelins:
Dropped gear is based on the level of your Freelancer
Loot will have a bias to the Javelin that you're using when you pick it up
Some rewards will be found out in the wilds when players explore
No item trading at launch
Javelin types are unlocked during early missions, with players choosing the order to tackle them in
Javelins cannot be permanently destroyed so that's a relief
No aerial dogfights against other Javelins in Anthem, as all the action is essentially massive mechanised boots on the ground
There is no friendly fire currently enabled for Anthem, although this is likely to change
Javelin flight speed can be upgraded
That's…starting to sound interesting. Anthem's real challenge will lie in how it convinces players to invest in the game long after the end credits have rolled, as around forty hours of interaction just isn't enough anymore dammit. Still, at least it looks like the core gameplay is shaping up to be a blast ahead of its launch next year on February 22.
Last Updated: June 26, 2018