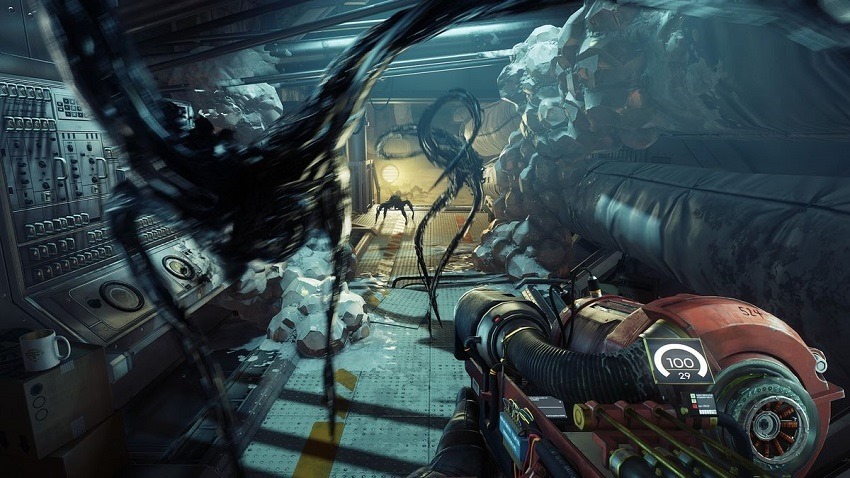 Being arguably the most alluring reveal on stage at Bethesda's E3 press conference last year, I don't think many were expecting Prey to release within the next year. But keeping in tow with what Bethesda pulled off with DOOM, the publisher is set to release their next signature franchise before the trade show kicks off again. Arkane Studios have revealed a new gameplay trailer for the horror/action hybrid, which gives a lot more insight into protagonist Morgan Yu.
Yu seems to have found himself in the middle of some alien experimentation, with the other humans aboard the Talos I space station using this opportunity to have all sorts of fun with the black, goo-like creatures they've captured on-board. Of course things like this usually don't end well, and soon Yu is forced to exterminate the threat on-board before the station lands back on Earth. All that experimentation has had lasting effects on Yu, which bodes well for your gameplay choices within the title.
Like turning into a coffee cup, for example.
Bethesda has focused heavily on some of the most interesting parts of Prey's combat, which has Yu using an assortment of engineering like tools as weapons and various supernatural powers to engage, subdue and otherwise avoid enemy encounters. There's a heavy influence from Arkane's own Dishonored here, as well as some sprinkles of atmosphere that recall moments from BioShock and Dead Space in equal measure. The trailers so far show these working extremely well together, and there's not long to wait to see if that holds true for the rest of the package.
Prey is launching on May 5th on Xbox One, PS4 and PC. And right now, it's looking like another hot release from the on form Bethesda.
Last Updated: January 25, 2017