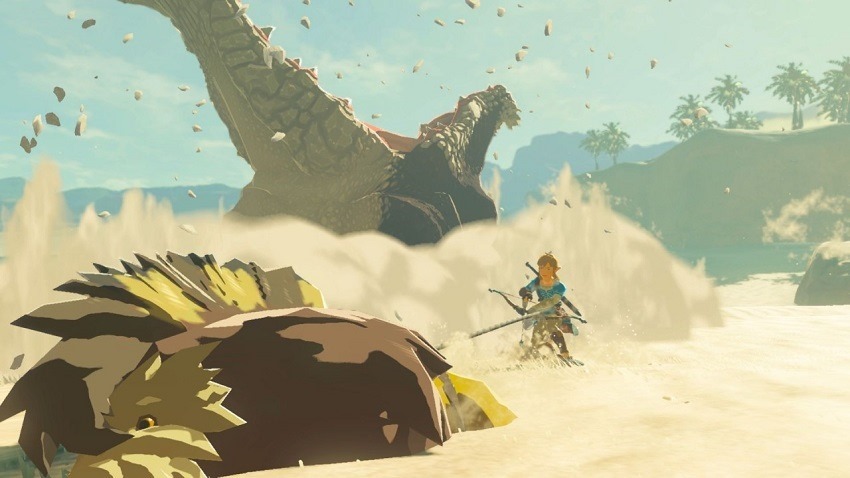 The Legend of Zelda: Breath of the Wild has had a slew of new trailers has Nintendo ramps up advertising ahead of the game's release next week, and many of them still manage to surprise. take a new Japanese advert for the game for example, which manages to pack in more new looks at the game in one minute that virtually every trailer over the past two months. But that information overload might have backfired, as some fans aren't taking kindly to Nintendo spoiling some of the game.
The trailer in question rehashes some familiar stuff, but for the most part contains new looks as some series regulars. You'll get a good looks at Link and Zelda in seemingly endless peril, along with introductions to the Zora, Rito and Goron. But it's the tail end of the footage that has fans a little angry at Nintendo, with a first glimpse at Dragons really tipping them over boiling point.
For reference, Dragons aren't new to the Zelda series. They've been featured prominently, but glimpses of them in Breath of the Wild had remained secret until now. So a tweet from Nintendo of America outright showing off the beasts hasn't gone down well with some followers, who presumably would've liked to have the kept as a surprise.
The new commercial for The Legend of #Zelda: Breath of the Wild in Japan features something we haven't seen before… pic.twitter.com/xrWisaLo6x

— Nintendo of America (@NintendoAmerica) 20 February 2017
It brings up the question of what is and isn't a spoiler, and it seems a little confusing that dragons are the hill to die on here. The Goron and Zora are just as equally prominent in the series, and just as likely to be left out as they are included. So if their introduction for Breath of the Wild isn't considered a spoiler, why do dragons get everyone a little hot and flustered?
Irrespective, in this age of over information it's often best to enact a full on media blackout for titles you absolutely want to go blind into. Nintendo, on the other hand, just wants to market the one game that is really going to drive Switch sales on day one. You can't really blame them for that..
Last Updated: February 22, 2017