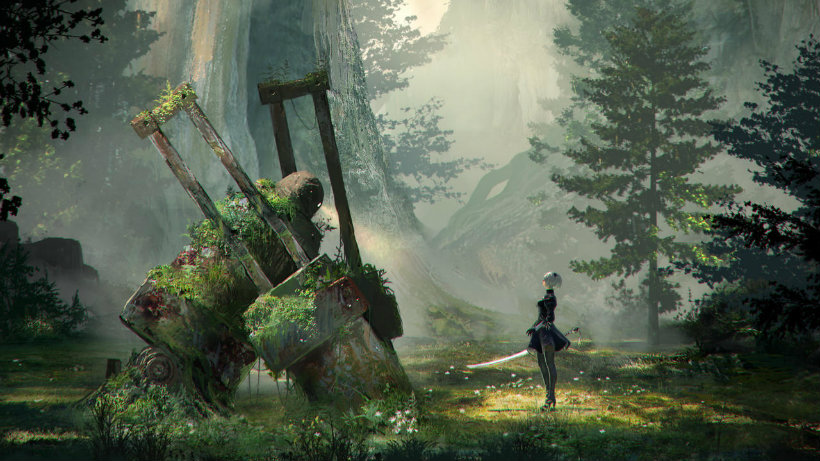 I know, Nier wasn't really that great a game. It had a lot wrong with it, but man, the stuff it got right was stellar. I was so attached to the characters and the music gave the story extra weight to make it memorable and wonderful. I was a bit too excited when I heard that Square Enix was working on a sequel, but actually, they're not the ones doing the heavy lifting, and that's a good thing.
Platinum Games, the geniuses behind Bayonetta, are known for their truly stellar combat. The rest of the games that they make might not exactly forge lasting memories for story or character development, but the core gameplay is a ridiculous amount of fun. Now it turns out that they're the main developers on the new project, but not at the expense of those parts that made Nier so special originally.
Speaking to Gamespot, designer Yasuhisa Taura explained that while the game is directed by Taro Yoko (the original director of Nier), Platinum is doing most of the development.
Yes, the development is mostly taking place here at Platinum [in Osaka], and in our Tokyo office. But we are of course getting help from Square Enix, and the composer for the original game is back to make new music. Also, the character design is being done by Akihiko Yoshida who works on CyDesignation, so we are borrowing people from other companies. But the majority of development is being done here.
Taura goes on to explain that he actually had an idea for a sequel to Nier because he loved it so much even prior to starting work with Square Enix.
I was thinking of creating something new and I'm a really big fan of the original Nier. I was creating a video game proposal that was something along the lines of a sequel to Nier. Right around the time I was doing this, Square Enix actually came to us to ask if we wanted to do something with them, some kind of project. They didn't mention Nier specifically, but they said they wanted to do something with us. So we said, 'Okay, we have an idea for a Nier sequel, so let's do that.' And that's how it happened.

[…] I love action RPGs in general, and the first Nier game had such a wonderful blend of serious story with some really wacky parody elements of other video games. It's that juxtaposition of seriousness and wackiness, it's something that I really liked about that game. Above all else, the music and the script are what caught my attention the most.
See, at least he knows it's all about the music and the script creating a blend between serious and bizarre. Actually, it's like Nier is the quintessential Square Enix game. Here's hoping that Platinum Games can make another stellar action game wrapped up in the RPG world of Nier.
Last Updated: October 16, 2015