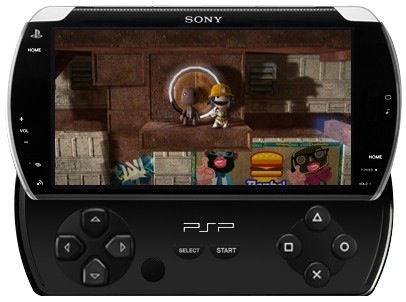 Sources of 1UP.com have confirmed that there is indeed a new PSP coming and that it will be unveiled at this years Electronic Entertainment Expo.
It seems like the the new PSP, which has yet to be named, will definitely be ditching the UMD in favour of downloadable games and an internal flash drive and will not, I repeat not, be getting a second analogue nub.
It also seems that the rumours of a slide-out screen are true and that the PSP's new title may be influened by this new feature. It is also believed that the well overdue Gran Turismo Mobile will finally see the light of day as one of the new systems premium launch titles.
More after they jump.
While I am really sad that they aren't opting for the second analogue nub, it also makes sense to those who still own the previous models of the PSP, as they will lose the ability to play any of the new games. Sony would obviously want as many gamers to move onto the new system as possible, but at the same time they probably realise it will cause quite an uproar if they suddenly made all of the older PSP models useless in a single blow.
Sony are refusing to comment on these details at the moment, but that's what they always do, so when E3 arrives in June, the truth will finally be revealed.
With the upcoming releases of LittleBigPlanet and Motorstorm for the PSP, not to mention the aforementioned Gran Turismo Mobile, the PSP really does look like it has a lot going for it again and I really do hope that Sony manage to revive their handheld to a state of consciousness once more.
Source: 1UP
Last Updated: April 29, 2009