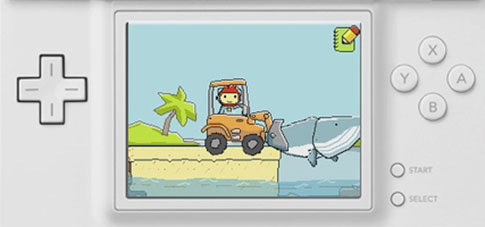 The first Scribblenauts from developer 5th Cell was a wildly ambitious game. It featured a rather comprehensive lexicon of objects that could be summoned – with the properties and characteristics you'd expect of them – to be used in puzzle solving levels.
It was ridiculously charming, and ended up being a pretty damned successful title – but ended up being let down by its poor controls. Well, it's getting a sequel – and the problems with the first game are being addressed. It also has a few new tricks up its sleeve…
The DS game will feature d-pad controls for Maxwell (YAY!) , improved stylus control and a better camera. The game will also now have adjectives! 5th Cell promises 10,000 new adjectives in the game's dictionary, the ability to string them together – and better physics.
More important are changes to the games level design. You'll no longer be able to use the same set of strategies to beat the games levels – making it a much deeper experience. The game will see a release sometime this autumn.
Source : NeoGAF
Last Updated: March 8, 2010