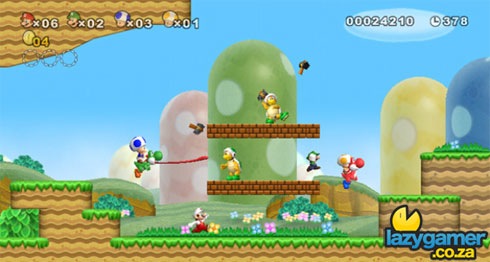 Michael Pachter, the videogame industry's favourite analyst has spoken again. Analysts, for whom it is apt to have the word "anal" in their titles on account of the amount of faecal matter that they spew from their mouths, sometimes do actually get things right – and I suspect this will be one of those times.
Pachter reckons that sales of New Super Mario Bros Wii, the 4 player co-op Mario game that harkens back to the series' halcyon days will "Shock"
"This game defines the NintenDad, it defines him," said the analyst. "So yeah the bored housewife bought WiiFit to get in shape and do yoga [but] this is the first game that I've seen on any Nintendo system that's complete throwback that I can play with my kids. As a NintenDad, I'm psyched to play this game."
Considering the system's monumental 60 million-strong userbase and the universal appeal of everyone's favourite rotund Italian, mushroom-stomping plumber it's not hard to agree with him on this.
Of course, this is the same guy who predicted that Borderlands – a title that's been selling exceptionally well – was being released to die
Source : ThatVideoGameBlog
[Ed] Extra video I found
Last Updated: October 26, 2009