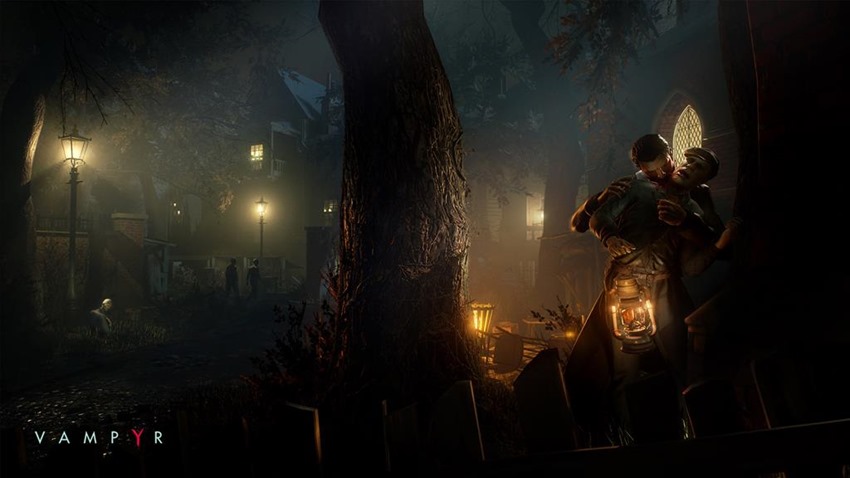 Jolly ol' England during the height of the Great War is the trendy place to be. It served as fertile ground in Battlefield 1 and if you look closely you might see a certain Amazonian Princess representing her homeland of Themyscira with grace and charm. Just don't go out at night, because it might be a pain in the neck. Haw, vampire puns. Which segues in perfectly to this quick bit of news: Vampyr has a release date.
Developer Dontnod's vampire epic that stars you as the medically licensed Nosferatu Jonathan Reid will be out this November for PC, PS4 and Xbox One. Here's the E3 trailer and some flavour text for you to sink your teeth into:
To survive against deadly foes roaming the streets – vampire hunters, undead Skal and other monstrosities – you will need to choose which civilians to feed on, so you can grow stronger and evolve your vampiric abilities. Use your unholy powers to manipulate and delve into the lives of those around you – but be prepared to live with the consequences of your actions. A web of interconnected citizens with unique lives and relationships react to your decisions, and killing just one may cause the downfall of an entire city district. Your actions will save or doom London.
You'll need to weigh the pros and cons of being a creature of the night here, as indulging in some crimson may result in a grim outcome for Reid as he begins to slowly lose his humanity along the way. Or you could be a dick like Geoff, as even a creative producer at Vampyr publisher Focus Home thinks that he's the real monster here:
You can kill the civilians if you want, you dick. https://t.co/25V2cdPSXB

— Very Games Michael (@Cromwelp) June 8, 2017
Geez Geoff, those NPCs were two weeks away from retirement. We'll be taking a peek at Vampyr at E3. If there's anything you want to know, drop us a comment below and we'll badger the devs with your questions.
Need more E3 in your life?
Check out our E3 2017 portal powered by Megarom Games and PlayStation
Last Updated: June 8, 2017