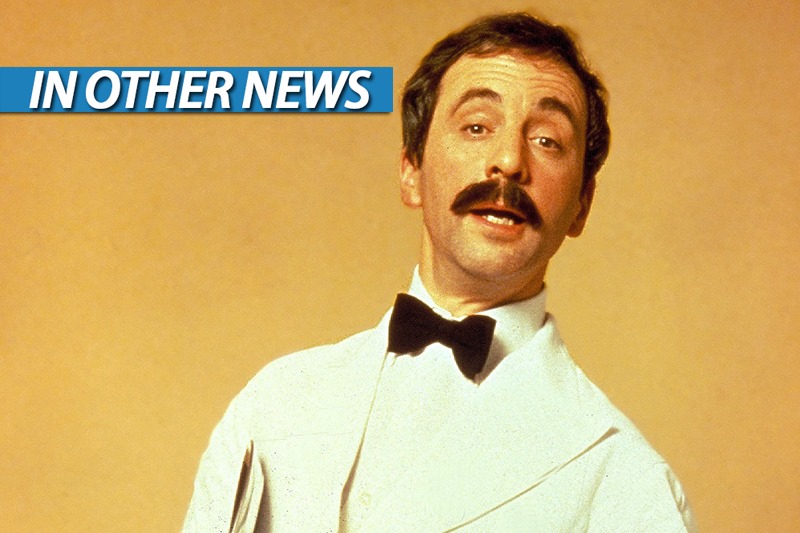 2016, you utter bastard. It's not enough that you took several beloved performers to the grave this year, like a Balrog dragging Gandalf off into the dark. But just when we thought that December was going to be alright, comes news that one of the most beloved immigrants to ever work the desk at a hotel has sadly kicked. I am of course talking about Andrew Sachs, the beloved Manuel from Fawlty Towers. He was 86, to be fair.
A good-natured simpleton stuck working for a verbally (and sometimes physically) abusive boss, Manuel was basically my patron saint of learning to speak english gud and getting the job done. You'll be missed Andrew Sachs, you will be missed indeed. Now pass me my brass knuckles as I prepare to go pay 2016 a visit.
In Other News: Better red than dead on PlayStation Now next week, the Oculus is ready to ta-ta-ta-touch you and Street Fighter V gets merry with some ho-ho-hadoukens.
Here's the news that we didn't post today, because we were too busy learning to English good from a book.
News
This is our first look at Shovel Knight: Specter of Torment
Pre-orders for The Last Guardian exceed Sony's expectations
Dauntless sounds like it could be PC's Monster Hunter
53 titles confirmed for Oculus Touch launch
Red Dead Redemption is coming to PlayStation Now next week
Hearthstone hotfix squashes Gadgetzan card pack bug, Blizzard promises free packs to all affected
Grand Theft Auto IV gets its first patch in six years
Street Fighter 5 pros battle it out for $350K in Capcom Cup, everyone else just gets ridiculous holiday, B-Boy costumes
Stuff
Geoff Keighley gives emotional speech for Hideo Kojima, puts Konami on blast
Watch: 36 minutes of Sniper Ghost Warrior 3 open world gameplay
Valve still hasn't fixed Steam curators
The man who dared call educational Minecraft a "gimmick"
Videos
What's on at The Movies
Jon Favreau discusses the use of VR tech in the making of THE LION KING live-action film
Joe Carnahan discusses his rejected script for the DEATH WISH remake
Director Brad Peyton talks his RAMPAGE video game adaptation with The Rock
This trailer sneak peek and poster for Universal's THE MUMMY reboot is real!
Top List Thursday – 7 actors who could play young Dumbledore in the FANTASTIC BEASTS sequels
Last Updated: December 2, 2016