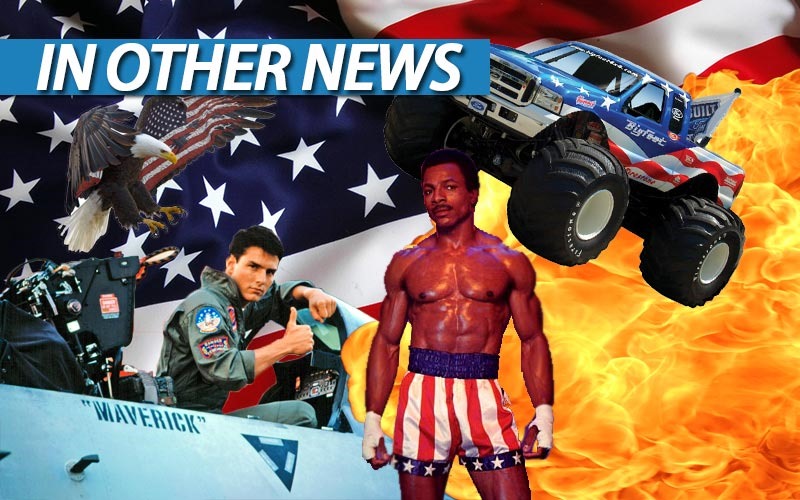 AMERICA! F*** YEAH! It's the fourth of July, so a happy day of independence to all our American pals over the land of the free! The original Brexit is most likely off to a fine start as you read this, and I'm somewhat jealous. While I'll love my South African homeland until the day I die, being proud of my nation is an entirely different story. Maybe it's all the badness that my ancestors engaged in until a few short decades ago, rampant corruption or the fact that our president can get away with eating living children and still be in office.
Whatever it is, I don't have that same mania and pride in this country that the Yanks do for their beloved homeland. Although I'm hopeful that maybe one day in the future, I will. Happy Independence Day America! Now go shoot some alien motherships down already.
In Other News: Pokécraft is a thing, Jaden Smith's tweets hit Left 4 Dead, this wolf is spicy and Titans attack again next year.
Here's the news that we didn't post today, because we were too busy hoping that these Michael Bay fireworks were safe for kids.
News
Pokémon Red is being recreated in Minecraft
Left 4 Dead 2 mod turns Jaden Smith's tweets into strangely appropriate graffiti ravings
Watch: the epic final minutes before Planetside closed forever
Scorn is a disturbing horror shooter in two parts
Spice & Wolf creator's World End Economica announced for PS4, Vita
Miyamoto thinks Starfox is Wii U's most underrated game
New Tokyo Twlight Ghost Hunters creeping west
LEGO Star Wars shoots to UK No.1, is the fourth biggest LEGO game launch
Stuff
Attack on Titan season 2 hits Spring 2017
Three years on, how does Bioshock Infinite hold up?
Overwatch's play of the game goes full circle
Blizzard pays tribute to Overwatch fan killed in accident day before launch
Videos
What's on at The Movies
From Boom to Bust: RIP Michael Cimino
Monday Box Office Report: TARZAN swings in, THE PURGE makes a killing, THE BFG is a giant dud
They're not selling bedding in this trailer for the R-rated comedy WAR DOGS
First look at Matthew McConaughey as The Man In Black in THE DARK TOWER
Last Updated: July 4, 2016