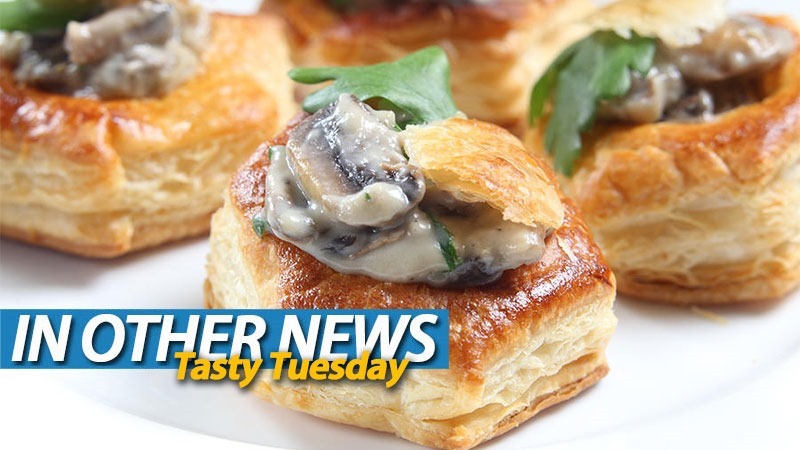 The easiest way to take something that already tastes good, and make it even better is to smother it in cheese and possibly deep fry it – but if you're looking to do the same while adding a touch of class, nothing works like a vol-au-vent. Vols-au-vent are small pasty casing, usually made by placing two discs of puff pastry atop one another – only the top one has a hole cut out of it, so that when it bakes, it makes a deliciously pastry bowl.
They're usually filled with mushrooms, chicken or some combination of both, but can really be used for just about anything. Make them small, and you have delightful canapes. Make them larger, and you've got a whole meal. I usually do them wither with a wild mushroom filling, or something even more French: Blanquette de veau.
WE NOW INTERRUPT OUR REGULARLY SCHEDULE PROGRAMMING WITH A MESSAGE FROM THAT GINGER GUY:
"Every year the ginger twat in Cape Town gathers the local Lazygamer orcs, or 'readers' for an afternoon of beer, food and jovial conversation. We discuss things like 'why is the PS4 being forced into a state of Obsolescence', 'how about that CoD game' or even 'what colour panties does Geoff wear on a Thursday night.'

If these things titillate you as much as they do me, come join us at the River Club in Observatory, Cape Town at 13:00 on Saturday the 10th of September."
For reference, it's pastel blue.
Here's the news we didn't post because we were trying to see if we could trade Darryn for a platter of gougères.
In Other News: Until Dawn will make you kak, Warner scores a spectacular DMCA own goal, DICE wants your input on Battlefield maps and VR's early adopters have all adopted.
News
DICE is taking requests for a new map in Battlefield 1 beta
Warner agency accuses Warner of breaching Warner's copyright
Until Dawn: Rush of Blood VR looks like a heart attack waiting to happen
VR headset sales have stalled
Ulala and her swingin' report show return in VR
We Are Chicago has a lot of potential and not much else
Silence, formerly The Whispered World 2, is coming in November
Stuff
League of Legends free art book is incredible
The dark romance of cars and nukes in Fallout 4
Oh man, this Warhammer 40K cosplay
Battlefield 1's beta is broken and brilliant in equal measure
Videos
What's on at The Movies
This new trailer for STAR WARS REBELS season 3 has studied the art of war
DVD review: Z FOR ZACHARIAH – Two's company, three makes for a crowded apocalypse
Gunn and Diesel talk Groot script in GUARDIANS OF THE GALAXY Vol. 2
We almost got an R-rated SAINTS ROW movie adaptation starring The Rock
Kristen Bell is in THE GOOD PLACE in the first trailer for hilarious looking new comedy
This trailer for Netflix movie ARQ is not telling us something
Last Updated: September 6, 2016