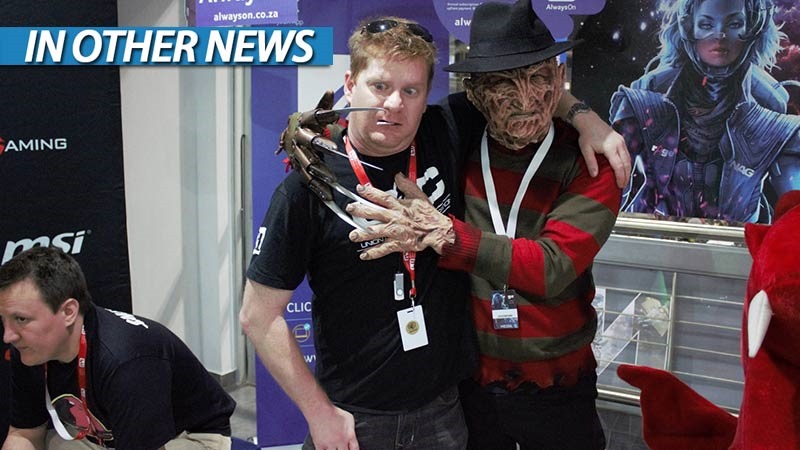 And that's a wrap. Every year, I sit in a fear coma as I fly up to Jozi and usually find myself hating life as I drown in a puddle of my cosplay sweat inside the Dome. And every year, it's freakin' worth it. It's not about who wore a Japanese schoolgirl costume the best or who got the best bargain from a vendor. rAge to me has always been about the people, seeing faces who I'll only recognise when I hear a Twitter handle and gorging myself on Rocomamas fine cuisine.
And every year, I come back to PE and miss you guys more than ever. Guys, stay awesome.
In Other News: Mafia 3 is pretty big, Tekken 7 gets MANLY and SimBin is back yo.
Here's all the news that we didn't post today, because I was too busy missing Rocomamas burgers. And to a much lesser extent you guys as well.
News
The world of Mafia 3 is bigger than Fallout 4, and just short of Red Dead Redemption – time lapse
Someone has travelled between planets using a jetpack in No Man's Sky
Three years later, you can finally customise your Payday 2 Safe House
Clockwork Empires, the eldritch horror colony simulator, will be out this month
Manly matador Miguel joins Tekken 7
Milestone talks Ride 2, the state of the racing genre and the studio's future plans
BioWare's best console game comes to iOS this week
SimBin Studios re-forms two years after bankruptcy
Stuff
Your fall 2016 anime guide
Tech Analysis: 4K gaming on PlayStation 4 Pro
New York's Comic Con cosplay was incredible
What happened to Japan's once bountiful vintage game stores?
Videos
What's on at The Movies
Monday Box Office Report: THE GIRL ON THE TRAIN almost derails but manages to make it to the top
There's not a soul in sight in this trailer for horror film THE MONSTER
Jamie Foxx has a lot of enemies in this trailer for SLEEPLESS
NYCC: This first two trailers for DOCTOR WHO spinoff CLASS is war itself!
NYCC: Meet the man, the myth, the legend in the first trailer for JOHN WICK: CHAPTER 2
Watch the fun new JUSTICE LEAGUE sizzle reel!
Thanks for the header image Nick!
Last Updated: October 10, 2016