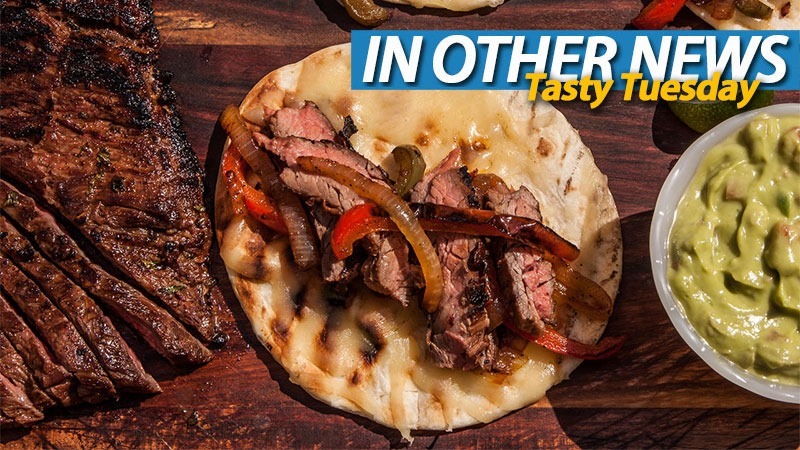 I have a preternatural love for Mexican food – and even love the stuff that isn't really Mexican. That Tex-Mex stuff tickles my fancy. It is no surprise then, that I'm pretty damned keen on Fajitas. Named as a diminutive for Faja, the "strip" of skirt steak that's most commonly associated with the do-it-yourself tacos, Fajitas are the perfect meal for those who like building their own.
Though steak is the usual meat, other proteins that go swimmingly with the corn or flour tortillas include well, your common proteins; fish, chicken, lamb, prawns etc. The whole thing is accompanied, usually, by sour cream, guacamole, salsa, pico de gallo, chopped tomatoes and of course, a bit of queso and some fresh chillis.
In Other News: FIFA hackers stole stuff, go to Mars in VR, People love being the Bat and how the waking simulator came to be.
Here's the news we didn't post because we were too busy wondering who on earth would buy a self aggrandising $300 book.
News
Nioh has a fairly typical digital deluxe edition
The Martian VR Experience arrives on HTC Vive and PlayStation VR tomorrow
Dragon Ball Fusions will be fusing a little earlier than expected
Guide stupid humans to a distant planet in Destination Ares
Red Faction, Red Faction 2 rated for PS4
FIFA hackers stole millions from EA, FBI believes
Here's how the PS4 Pro improves Battlefield 1
Batman: Arkham VR was the best-selling digital PSVR game in October
Stuff
Pokémon turned into traditional Japanese prints
DF Retro: Tomb Raider – PS1 vs Saturn vs PC
Skyrim Special Edition, looking prettier with mods
The origins of the walking simulator
Videos
What's on at The Movies
Jessica Chastain cast as PAINKILLER JANE
Season 2 trailer for THE EXPANSE is a deceleration of war
Luc Besson talks about that incredible VALERIAN AND THE CITY OF A THOUSAND PLANETS trailer
Marvel announces INHUMANS TV series… which will debut on IMAX!
This full trailer for BEAUTY AND THE BEAST feels it in your heart
Last Updated: November 15, 2016