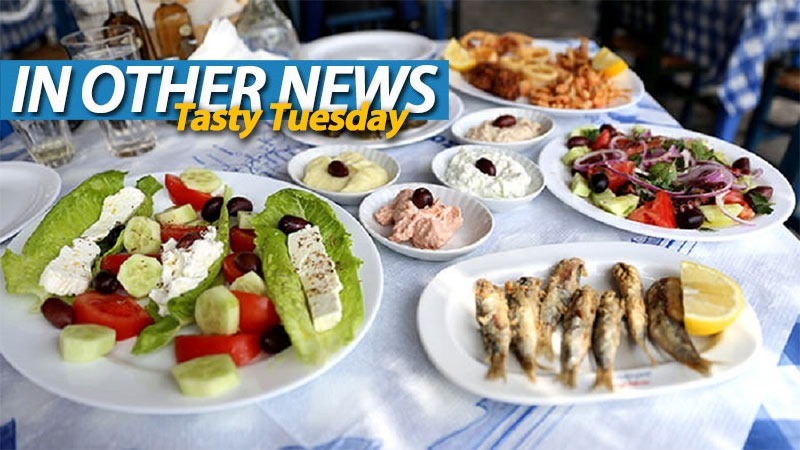 Right now, I'm on a Greek food binge. I think it's the warmer temperatures and the promise of Spring. When I'm sitting down, having a cold beer and picking on a platter of meze, my mind pretends it's sitting in Santorini. Or at least, the Santorini that was before Greece's economy collapsed. I digress though. I've been eating a lot of meze, and I just can't get enough of it.
Give me some toasted pitas and an assortment of dips and snacks and I'm happy. Ubiquitous, stereotypical stuff like Tzatziki – a thick greek yoghurt mixed with cucumber, garlic, dill, lemon juice and seasoning. Add some taramasalata – the creamy, emulisifed salted and cured cod roe. Give me Skordalia – mashed potatoes mixed up with olive oil and garlic, or Tirosalata – creamy and spicy whipped feta cheese and peppers. Kalamarakia, deep fried calamari and yes, the delightful squid head – and other island nibbles and it's just taste heaven. Right, I;m off to Mythos.
In Other News: Street Fighter fights rage quitters, Splatoon's coming back…as a demo. Again. Arkham VR makes people act like goofyidiots and what's that? Half Life: 3 at Gamescom? Waitaminute!
Here's the news we didn't post because we were to busy playing Norman's Guy.
News
Battlefield Insiders get access to the Battlefield 1 beta one day early
Watch Fallout 4's Nuka-World add-on in action
Everyone in this Batman: Arkham VR video seems very happy about it
AMD Crimson 16.8.2 drivers add support for No Man's Sky
Upcoming Street Fighter V update targets rage quitters
Met Police to establish troll-hunting unit
Splatoon demo returning next week
The teams to watch at ESL Gamescom 2016
Stuff
There sure are a lot of soda machines in video games
There's a sneaky Half-Life 3 poster at Gamescom
Metroid Prime's first boss battle captured perfectly in LEGO
No Man's Sky's most aggravating omission (on PS4)
Videos
What's on at The Movies
DVD review: Zootropolis – Cute. Clever. Compulsory viewing
McG is 'focused' on new MASTERS OF THE UNIVERSE film
Dolph Lundgren joining ARROW; FLASH/SUPERGIRL getting musical crossover episode
BAD BOYS 3 delayed by 6 months, but gets a new official title
Sanity prevails: Jonah Hill says MIB and JUMP STREET crossover unlikely to happen
Last Updated: August 16, 2016