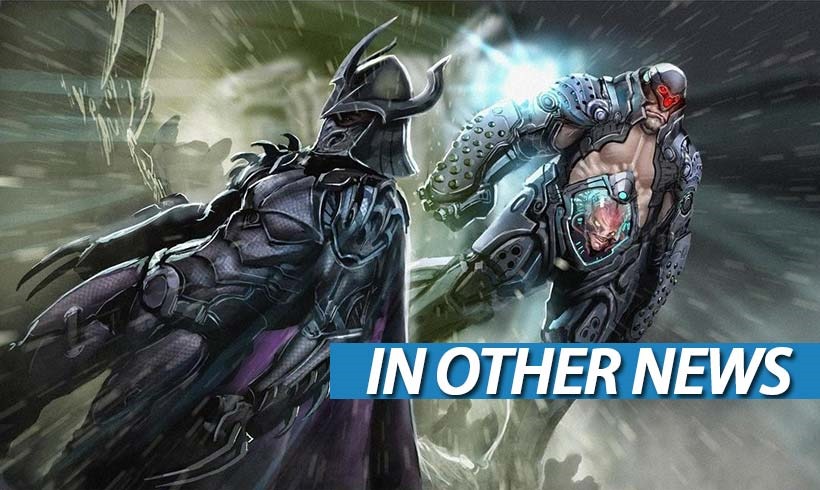 After spending my entire weekend playing DOOM, I've begun seeing things a little differently. Specifically through a DOOM-filter, which is why I'm in jail right now for attempting to saw a Jehova's Witness in half with a rusty DVD copy of SAW 4. I should have used my remaining minutes to call my lawyer, now that I reflect back on this.
In Other News: Dark Souls board game raises millions more, Sony is going wild for some arms, shovel in a cameo and some badass action figures yo.
Here's the news that we didn't post today, because I was too busy getting some tax advice from that helpful finance minister in my cell.
News
Dark Souls board game Kickstarter has raised over £3 million
System Shock Remastered is heading to Kickstarter next month
Mark Hamill "didn't even have to read the script" to sign on to Squadron 42
A House of Many Doors creaks open September 24
We could still get a Nintendo cameo in Shovel Knight
Clash Royale studio could be up for sale, report claims
Sony JRPG Wild Arms 3 coming to PS4 next week
Bandai Namco rolls back Dark Souls 3 patch designed to address hacking problem
Stuff
Artist makes badass Battlefront and Killzone action figures
Exploring a tiny galaxy filled with jerks in Stellaris
Tank murder is a very funny GTA V video
How Thimbleweed Park recreates the glory days of graphic adventure games
Videos
What's on at The Movies
Ben Affleck is creative in this trailer for THE ACCOUNTANT
Lupita Nyong'o and Michael B. Jordan in talks to join Marvel's BLACK PANTHER
Monday Box Office Report – Captain America pushes Marvel past the $10 billion mark!
ASSASSIN'S CREED avoided green screen; and 35 other facts you should know
Last Updated: May 16, 2016