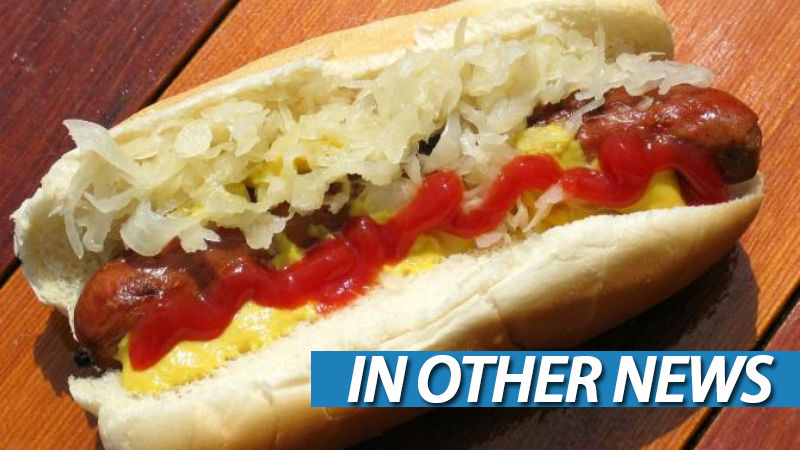 I love a good hot dog. No, stop your giggling. I mean a real Coney Island style hot dog. Most American hot dogs are what those around the world might call a Frankfurter, although there are some slight differences. It's that distinct snap and smooth texture, salty but not overpowering taste that makes these dogs so very good. Thanks to Independence Day in the States, and the corresponding barbecues and propaganda, I always associate hot dogs with freedom. So, when all my dear South African friends go off to celebrate your freedom to vote tomorrow, I will be thinking of this delicious hot dog served with German mustard and sauerkraut.
In Other News: NX will be full of surprises, GTA 5 brings more new content, Epic Meal Time with FFXV and Final Fantasy X's laughing scene explained.
Here's the news we didn't post today because we were too busy testing Slackbot's responses.
News
'Other surprises' in store for NX, says Ubisoft
Overwatch appears to be getting some Summer Olympics-themed skins
Should You Return To GTA 5 For Cunning Stunts?
ARK: Survival of the Fittest merging back with Survival Evolved, PS4/Xbox One versions on hold
Check out the new zones, dungeons, bosses and features coming with World of Warcraft: Legion
Stuff
Sega Announces Positive Results: Expects Expansion of Console Market; "Large" PC Market in the West
How Final Fantasy X's Infamous Laughing Scene Happened
No criminal charges to be filed in 38 Studios case
Vidja
Last Week Tonight with John Oliver: Republican National Convention (HBO)
Last Week Tonight with John Oliver: Democratic National Convention (HBO)
Tom Clancy's Rainbow Six Siege – Operation Skull Rain Trailer
Behind the Scenes with Epic Meal Time & Final Fantasy XV
The Movies
Chris Evans to star in new movie adaptation of JEKYLL
And the winners of our SUICIDE SQUAD competition are…
Will DOCTOR STRANGE finally make 3D worthwhile?
This trailer for THE HANDMAIDEN doesn't have much to say
Last Updated: August 2, 2016