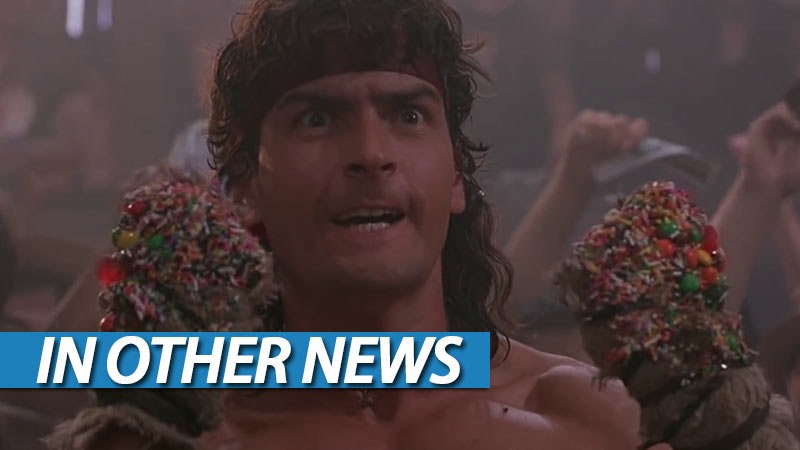 I'm a complete sucker. A gullible, easily distracted person which is the reason why I've probably bought a Powerball ticket. It's not that I don't love my job, but I also wouldn't mind not having to do any work whatsoever for the rest of life. That being said, I could probably never stay away from all this action for too long. Hell, if I had to win the jackpot tonight, I'd be probably use that cash for charitable purposes…HAHAHAHAHAHAHA. JUST KIDDING!
I'm going to use that money to film a reboot of Hard Target. Except the stunt doubles won't be told that I'm using live ammo to hunt a most elusive quarrrrrry. Also, I might treat the gang here to any meal they want from the R10 menu at KFC. I'm a giving chap, I really am.
In Other News: Consequences for an internet idiot, Crusader Kings 2 has caught some man-flu and this Indiana Jones game belongs in a museum.
Here's the news that we didn't post today, because we were too busy wishing that we were at the Whale's Vagina Comic Con.
News
Man arrested for threatening to show up at Blizzard with an AK-47
Mafia 3 live-action trailer builds "the legend of Lincoln Clay"
Crusader Kings 2 DLC lets you get sick and die of plague as the Black Death spreads across Europe
Duelyst is the latest game to get a crate and key system
Overwatch console update adds Ana, nerfs Torbjorn and Symmetra
Warframe hack saw 775k emails leaked
Gears of War 4's protagonist is named after Marcus Fenix's BFF
Fnatic finally sign an Overwatch team
Stuff
Reporter busted playing Pokémon Go during State Department briefing
3DMark's DX12 bench analysed: GTX 1060 vs RX 480
The Fungus Among Us
Indiana Jones and the Fate of Atlantis' cancelled sequel detailed
Videos
What's on at The Movies
Legendary developing an HP Lovecraft TV series
Comic-Con: Luc Besson's VALERIAN sounds like a massive return to sci-fi form
Expect a whole lot more Jason Bourne… just don't expect him to talk much
We want to know what happened that night in this trailer for THE GIRL ON THE TRAIN
SA's Weekend Top 10 Chart: Jungle Fever
Last Updated: July 22, 2016