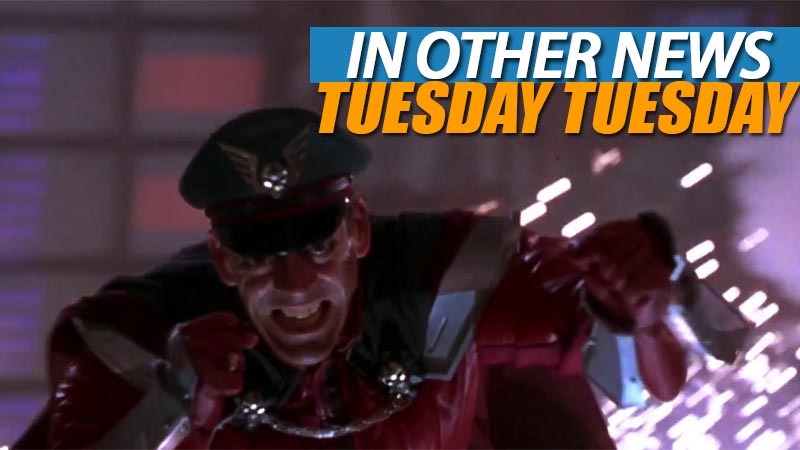 Something wrong Colonel? You come here prepared to find a Tasty Tuesday, and instead you found a madman? Fine! Keep your Geoff! In fact, now might be a good time to pray to him! For I beheld Satan as he fell from heaven! LIKE LIGHTNING!
In Other News: Microsoft is really sorry for that perceived racial slur, eBay wants you to make money with NES nostalgia and Doom can run on anything.
Here's the news that we didn't post today, because I was too busy dealing with people who refuse to accept my godhood.
News
Microsoft apologises for perceived racial slur in Dead Rising 4 marketing email
Rocket League lines up customised training mode
Destiny weekly reset for November 22 – Nightfall, Crucible, Prison of Elders changes detailed
Blizzard is recruiting for an unannounced project using a "first-person engine"
Apollo Justice is finally heading over to mobile devices
eBay promoting NES Classic scalping in the US
Todd Howard says Nintendo Switch has 'one of the best demos I've ever seen'
Stuff
I'm still searching for the SSX in Steep, but there's one thing it absolutely nails
Someone got Doom running in the MacBook Pro's Touch Bar
What does the Overwatch PS4 Pro patch actually do?
Video games also have a fake news problem
Videos
What's on at The Movies
Paul W.S. Anderson looking to make a MONSTER HUNTER movie
Everything is out of place as SNOWPIERCER heads to TV
Marc Foster set to direct Disney's live-adaptation version of WINNIE THE POOH
This trailer for Jackie Chan's RAILROAD TIGERS looks like… amateur hour
Eddie Redmayne talks FANTASTIC BEASTS; casting, sequels, and working with JK Rowling
Emilia Clarke joins cast of HAN SOLO film
You can't tell who your enemies are in this trailer for THE ZOOKEEPERS WIFE
Last Updated: November 22, 2016