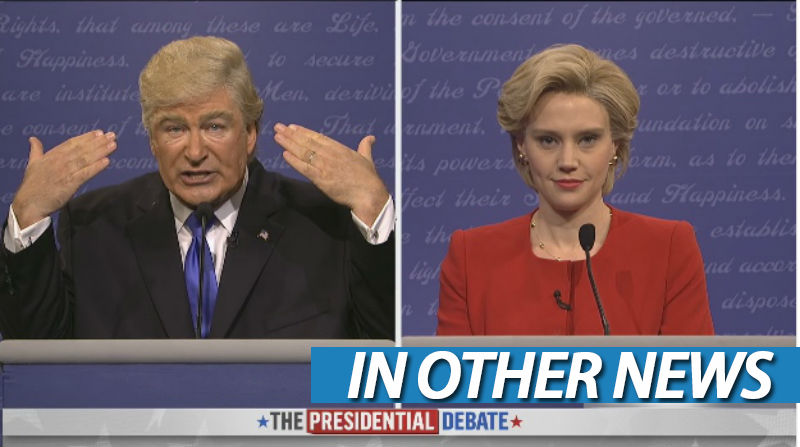 I used to have a thing about collecting quotes. It was a silly teenage quirk, but was fun at the time. One of my favorites was "Never underestimate the power of stupid people in large groups". It's not to undermine anyone's intelligence, but when I see the way internet mobs can destroy lives, or the way crowds can respond to random prompts, it can make me afraid for humanity. Why do I mention this? Well, because I got my absentee ballot in the mail this week. That's right, I'm ready to cast my vote in the US election. Now to just get Gavin to stop sending me Trump videos.
What happened today? Bethesda will no longer send out early review copies, Going free-to-play wasn't enough to save Evolve and Infinite Warfare's live action trailer reminds us that games can be great escapism.
But In Other News: Watch Dogs 2 pokes fun at scientology, Resident Evil brands some makeup for Halloween and this Moogle gameplay trailer is a decoy.
Here's the news we didn't post today because we were too busy imagining the egotistical bundle.
News
Fan-Made Sonic Utopia Aims To Capture The Hedgehog's Best Features
NieR: Automata Gets Pod Skins Aplenty and Machine Life Form Mask as Bonuses
Brutal Doom 64 mod will launch next week
Watch Dogs 2 is ready to audit Tom Cruise and Scientology
XCOM 2 – Shen's Last Gift DLC Now Available on PS4 and Xbox One; Gets Launch Trailer

Stuff
Keep an eye out for major gaming Easter eggs in Black Mirror's third season
Just in time for Halloween, here is some official Resident Evil branded special effects make up
Apple's Annual Revenue Declines for First Time in 15 Years
Vidja
Final Fantasy XV – Moogle Gameplay
Dark Souls III – Ashes of Ariandel Launch Trailer | PS4
WORLD OF FINAL FANTASY – Explore the magical world of Grymoire!
The Movies
Joss Whedon is making a horror movie set in World War II, inspired by the US Presidential race
JESSICA JONES season 2 to boast all-female directing team
Midweek Movie Mouth-off: what are you watching on Halloween?
Peter Jackson looking to adapt fantasy novel MORTAL ENGINES for Universal
FRIDAY THE 13TH is returning for a more violent and fresh take on Jason
Last Updated: October 26, 2016