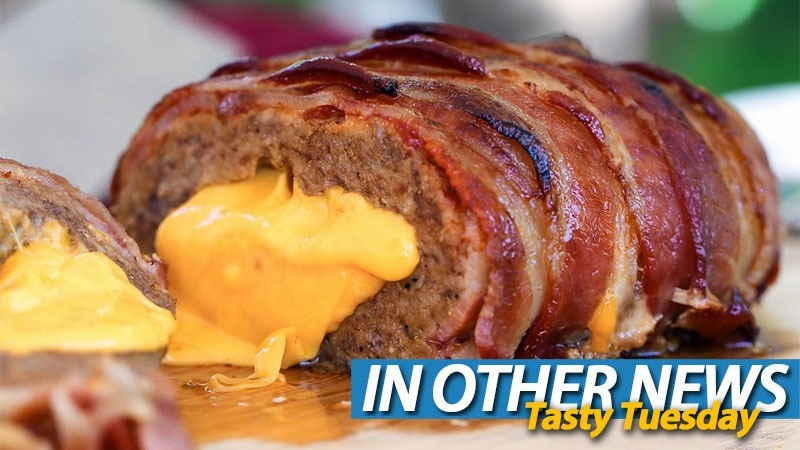 Meatloaf. It's one of those homey, comfort meals – the sort of thing mom makes when she's out of ideas and happens to have mince lying about. Hardly elegant or refined, it's really just minced meat, bound and baked in the shape of a loaf.
But it can be elevated. Stuff it full of cheese, and wrap it in bacon – as one example. Look, I'm not really going to evangelise meatloaf here. The only reason I used it is because today is Marvin Lee Aday's birthday – yes, the guy you probably know as Meat Loaf. I'd post a picture of him, naked covered in bacon and stuffed with cheese – but I think I'd rather save you from that indignity. I would do anything for lulz…but I won't do that.
In Other News – Castlevania turns 30, Battlefield 2142 is back, PSVR pre orders could take ages, triple tanks are taking over Overwatch and oh god why does PPAP exist?
Here's the news we didn't post because we're too busy scrubbing PPAP from our brains.
Destiny weekly reset for September 27 – Court of Oryx, Nightfall, Prison of Elders changes detailed
Asus G11 gaming desktops now pack a bigger punch with Pascal
Sundered is a Lovecraftian-inspired Metroidvania from the studio behind Jotun
Battlefield 1 reveals early deployment details for Origin subscribers
Ready to feel old? Castlevania turns 30 today
Bethesda teams up with pro-gamers for new Quake Champions
Battlefield 2142 lives in a new revival mod
Amazon's PSVR pre-order backlog stretches out to mid December
Stuff
Persona 5's real-world locations
How similar is Paladins to Overwatch?
The triple-tank strategy is taking over competitive Overwatch
Pirates of the airwaves: How Sega won the hearts and minds of a generation
Videos
What's on at The Movies
You do want some of this trailer for Netflix's LUKE CAGE
We review DEEPWATER HORIZON – Nailbiting real-world disaster that doesn't drill too deep
New JUMANJI sequel cast and plot details confirm video game setting
We Review THE SECRET LIFE OF PETS – There is no secret to this film's success
Duncan Jones' next film MUTE to be set in same universe as MOON
DVD REVIEW: ANGRY BIRDS
New Stan Lee project MONKEY MASTER to have an Asian setting
Last Updated: September 27, 2016