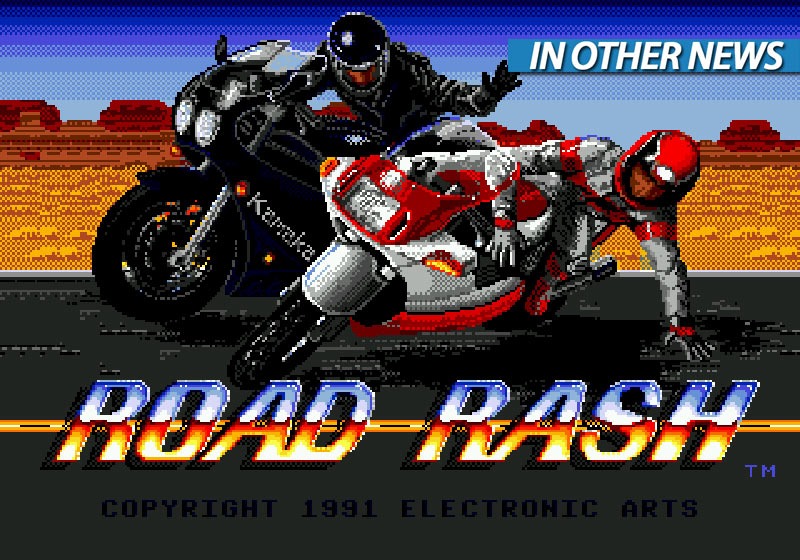 British comedian Ross Noble summed up the joy of motorcycles perfectly on an episode of Top Gear: You either get it right, or you die. Fortunately, riding a motorcycle in a digital realm has always been a lot less gruesome, although not all games were created with safety in mind. One of the best games that required you to utterly blkiksem the guy off of his bike was Road Rash.
The driving mechanics were alright, but they were complemented by being able to punch, kick and smash a guy in the face with a chain if he got a little too close to your Yamaha. Honestly, they should implement that style of combat into the MotoGP to make it interesting again and to give someone other than Rossi or Marquez a chance to win a race. Once again, I have saved motorsport.
In Other News: Steep opens up in November, the Trials of Osiris should be free of a Ddos or two soon and Skyrim never changes.
Here's the news that we didn't post today, because we were too busy trying to see if Valentino Rossi knew how to nipple-surf on hot tar.
News
Steep open beta coming in November
Tyranny trailer reveals multi-structure player stronghold called Spires
Destiny: Bungie has already banned some of the Trials of Osiris DDoS cheaters you reported
Someone has already beaten Dark Souls 3's hardest DLC boss with his bare hands
Abzu drifts to retail on Xbox One, PS4 in January
Heroes of Honor developer Nonstop Games closed by King
Gravity Rush 2 is bringing those glorious costumes back
Razer and Nacon are making pro PS4 controllers
Stuff
Pen-Pineapple-Pen Cafe opening in Japan
What Skyrim had that Fallout 4 lost
Skyrim never changes
Titanfall 2's Gauntlet is the best thing to do while a video game installs ever
Videos
What's on at The Movies
Next CLOVERFIELD film revealed to be the JJ Abrams produced GOD PARTICLE
Movies out Today: 28 October 2016
We review THE ACCOUNTANT – Almost doesn't add up… but still thrills
Gerard Butler's Secret Service agent Mike Banning to return in ANGEL HAS FALLEN
Ice Cube and HAMILTON director teaming up for OLIVER TWIST remake
SA's Weekend Top 10 Movie Chart – Tom Cruise trolls Tyler Perry
Last Updated: October 28, 2016