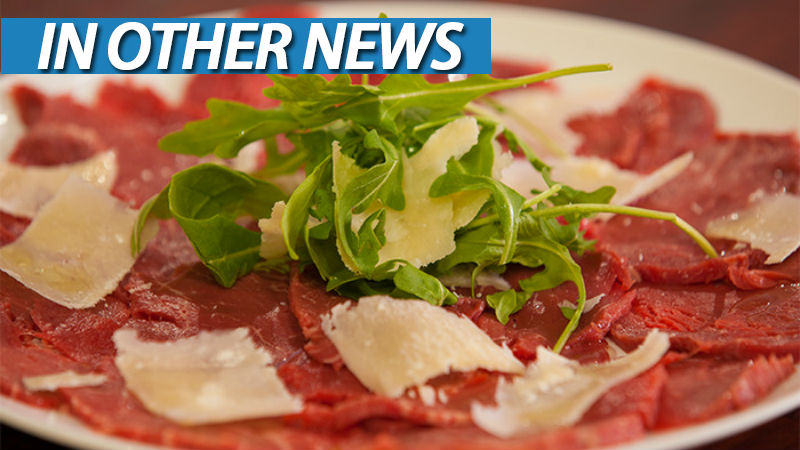 As we move into summer (okay, at the moment it feels like winter again, but let's not talk about that), the heavy cooked foods are often replaced with lighter, cooler fare. Nothing could be more appropriate, then, than Carpaccio. At it's core, it's not much more than thinly sliced raw beef combined with some rocket/argula, parmesan, salt, pepper and olive oil. And yet, a good carpaccio is so much more than the sum of its parts.
A good carpaccio (and really, you shouldn't eat the bad stuff) is melt in your mouth tender, packed with tons of umami goodness. It is fresh and earthy and oh so delicious. What better way to start your meal on a warn summer evening?
In Other News: Neil DeGrasse Tyson is making a game, of course PewDiePie's game is huge and people are still trying to fix the Tali sex scene.
Here's the news we didn't post because we were too busy falling down the rabbit hole.
News
Destiny weekly reset for October 4 – Nightfall, Crucible, Prison of Elders changes detailed
Deus Ex: Mankind Divided becomes first game to support HDR on PS4
Neil DeGrasse Tyson is making a videogame
Another Pokemon is being added to the arcade version of Pokken Tournament
The next Dota 2 major will be held in Boston
Darkest Dungeon's first DLC is The Crimson Court
PewDiePie's game tops mobile charts across the world
Stuff
Four years later, fans are still trying to fix Mass Effect's Tali sex scene
Digital Foundry: Hands-on with Mantis Burn Racing on PS4 Pro
Massive Overwatch cosplay steals the show at TwitchCon
DF Retro: Daytona USA – why frame-rate has always mattered
Videos
SWORD ART ONLINE: Memory Defrag Trailer
SNL First Presidential Debate Parody Sketch | Trump-Hillary Debate
Face Up – The Selfie Game – Launch Trailer

What's on at The Movies
DVD REVIEW: QUEEN OF THE DESERT
Johnny Depp to star in Branagh's adaptation of MURDER ON THE ORIENT EXPRESS
First look at Jason David Frank as Valiant's BLOODSHOT
What you hear in this IMAX trailer for JACK REACHER: NEVER GO BACK is excitement
Last Updated: October 4, 2016