As many of you know, I spent much of my time in Taipei last week looking for the perfect bowl of Niu Rou Mian or Beef Noodle soup, Taiwan's quintessential comfort food. I'm not completely convinced I did – but I sure did try, and they were all sure as hell delicious. But we're not going to talk about that.
Stuffed after one of my noodle expeditions, I stumbled upon a stall that had a queue of people standing waiting – so I had to just had to a) find out what it was and b) see if it was any good. It ended up being flaky scallion pancake, something I've had before – but this time, stuffed with fried egg and basil leaves, then finished off with a chilli soybean sauce. It's the perfect sort of street food. Cheap (the one with egg and basil works out to about R16), crispy delicious (my god was it delicious) and absolutely worth queuing for.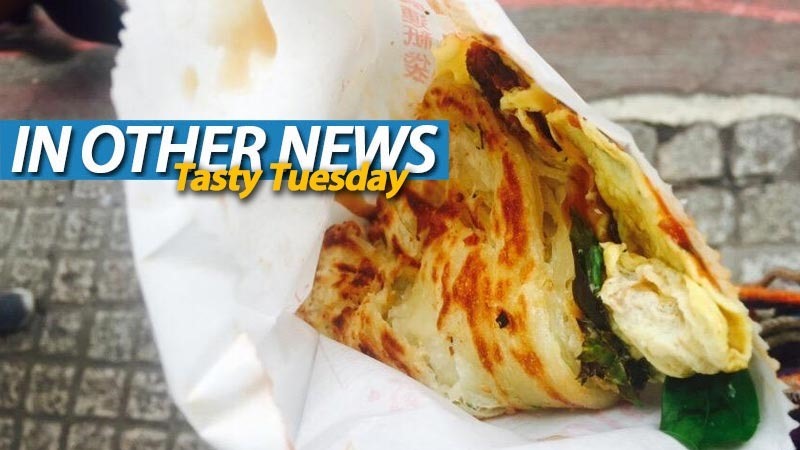 In Other News : Diablo's Director leaves Blizzard, Xbox One gets a personal assistant, not all games should be eSports and here's UnchARTed.
Here's the news we didn't post because we were too busy oh god I want to eat all the Taiwanese food again.
News
GTA Online: Finance and Felony update is live
Hitman's third Elusive Target goes live tomorrow
Xbox One update gives the storefront an overhaul and adds Cortana
Diablo 3 director leaves Blizzard after ten years
Myst artist, BioShock Infinite writer team up for a new adventure called Zed
Battleborn is a cautionary tale for developers jumping on the esports bandwagon
Colorful motherboard wields integrated GeForce GTX 1070 GPU
Yooka-Laylee delayed to 2017; Playtonic internally handling Wii U and PC versions
Stuff
Jamie Lee Curtis dressed up for the Warcraft premiere
The art of Uncharted 4
Digital Foundry vs Fallout 4 mods on Xbox One
The creator of Settlers of Catan has some important gameplay advice for you
Videos
What's on at The Movies
Win 1 of 5 hampers in our CONJURING 2 competition!
And the winners of our NICE GUYS competition are…
Imitation Game's Morten Tyldum to direct adaptation of Lauren Beukes' THE SHINING GIRLS
Here's a timeline leading up to INDEPENDENCE DAY: RESURGENCE
Have they found the actor to play Pennywise in the new IT reboot?
Last Updated: June 7, 2016