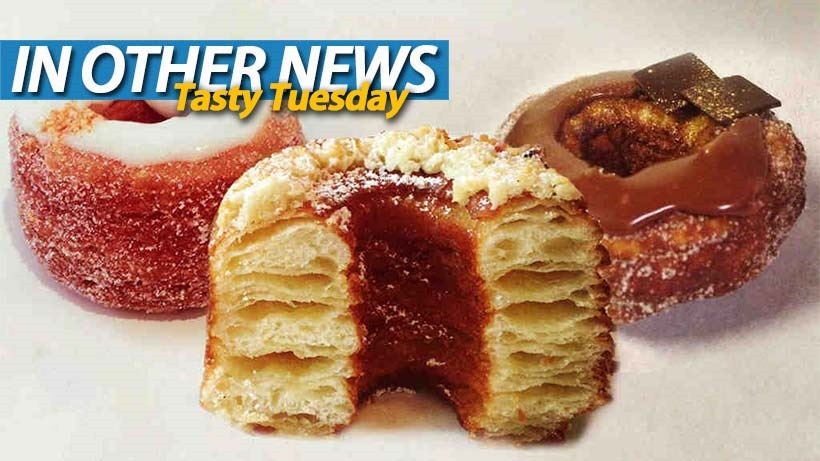 Today, The Division is out – making New York Home to an engineered plague that's very nearly wiped out one of the world's most vibrant cities. Outside of this digital reality, New York is a melting pot of cultures, making one of the best "food cities" in the world. There are a number of quintessential New York foods, which we've featured here before; things like Hot Dogs, Pizza, Blintzes and Pierogi, as well as ones we haven't; Bagel and Lox, Bialy, Pastrami on rye and New York Cheesecake.
They've all got a long, rich history in New York – which was home to many of the US's immigrants. Instead of something old, today we'll feature something a little newer. It's an abomination known as the Cronut. Created by Chef Dominique Ansel (and trademarked by his New York Bakery), The Cronut is the unholy union of a croissant and a Donut. It's a portmanteau and an abomination, and very possible the reason The Division's New York is in the state it's in.
In Other News: The Purple Tentacle is coming back to cause Mansion mania, Doom gets its second cover, UFC2's covered in losers and snakes and ladders is now a first person shooter.
Here's the news we didn't cover because we were too busy entering this magnificent Batman V Superman competition over on the The Movies. Hah!
News
Day of the Tentacle Remastered is out this month on PC
The Doom reverse sleeve poll has a winner
PDP is the new co-publisher for Rock Band
Fable Legends players will be offered refunds
A Link to the Past and Super Metroid are coming to the EU eShop this week
Sold Out to publish physical version of Carmageddon: Max Damage
Poor EA! UFC 2 is now covered by losers
Dev of successful Kickstarter quits game due to 'drama'
Stuff
Why is Danganronpa so viciously appealing?
This is what a video game museum should look like
Watch someone discover Prison Architect's hidden 3D mode
Someone's making a first-person shooter out of Snakes and Ladders
Videos
What's on at The Movies
Arnold Schwarzenegger might go Dutch in THE PREDATOR
J.K. Simmons cast as JUSTICE LEAGUE's Commissioner Gordon
Director Roar Uthuag discusses the filming of Norwegian disaster movie THE WAVE
James Bobin in talks to direct 23 JUMP STREET/MEN IN BLACK crossover
Why you runnin'? It's the first trailer for BOO! A MADEA HALLOWEEN!
Watch the shadows – the THIEF video game series is sneaking towards the big screen
Last Updated: March 8, 2016