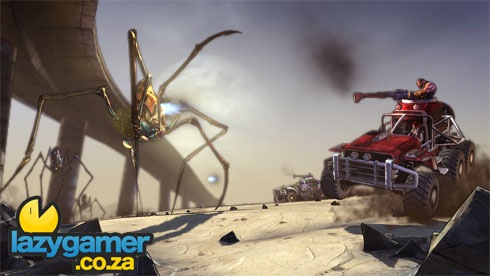 You're probably all getting pretty tired of me saying that Borderlands is one of my very favourite games of last year, but it's true – and if Gearbox continues to support the game post-launch like this, it may end up being one of my favourite games this year too.
The next bit of DLC for the RPG/Shooter Hybrid promises to be Bigger, Better and More Bada…no wait, that's a different game. What it does promise though is to be the largest DLC for the game to date. It'll be heading to PC, PS3 and Xbox 360 – although no date has been given.
2K Games and Gearbox Software are excited to announce the largest DLC for Borderlands to date: The Secret Armory of General Knoxx (coming to the Xbox 360, PlayStation 3, and PC)! Get ready to face off with brutal, never-before-seen enemies in a huge new environment complete with tons of brand new missions. Don't worry, you'll be able to get guns (yes, even more guns!) to give you the firepower you'll need as you discover entirely new weapons and items!

This DLC extends the Borderlands experience, providing new challenges and opportunities for growth for characters from around level 34 to level 50. Growth for characters at 50? Yeah, that's right, we've raised the level cap; even players who think they've seen it all have tons more to do! The Secret Armory of General Knoxx offers hours of thrilling shooting and looting for Borderlands players!
An increased level cap, new enemies, what looks like a new vehicle and more of what Borderlands awesome? I want this, and I want this now.
Source : Bluesnews
Last Updated: January 29, 2010