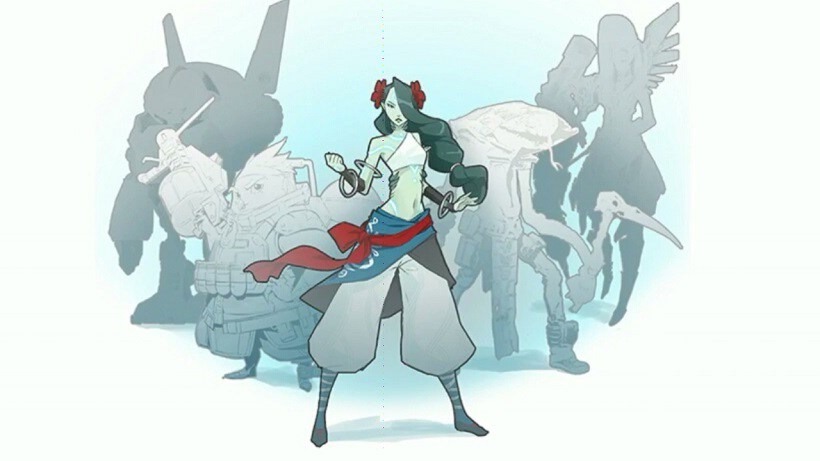 Sheesh, Gearbox don't waste time, do they? Just yesterday, they released a brand new hero for Battleborn (a waterbender called Alani), and now, they're already teasing the next. He's a snake named Pendles, and he looks sssssssssimply fabuloussssssssssss…
Hailing from the water world of Akopos, and pals with Alani, Pendles is a cold-blooded killer. No, literally. This anthropomorphized reptile will ssssneak up on you, poison you, perforate you with dual kamas then – poof – disappear without leaving a trace. Oh, yeah, and he wears a dope pair of sneakers.  Get it? "Ssssneaky"?!? Wears sneakers?!? (Fine…fine.) This Rogue's rogue may be a cold-blooded assassin-for-hire, but Ghalt felt was safer to have him on the team, than not.
Pendles instantly reminded me of a great joke I once heard. Want to hear it? Of course you do! What did the snake say when it slithered into a rock? JATHITH!
Come on, that's comedy gold! Anyhow, though Pendles is being teased now already, according to Gearbox, he won't be out for a little while. He's only coming to the shooter in the next couple of months, and will be free to all season pass holders.
Alternately, if you're extra tight-fisted with your Randelas, start saving in-game credits now. You'll need a whopping 47,500 stored up in the bank if you want access to the sneaky snake when he launches.
Based on his bio, it's pretty obvious that Pendles is going to be an assassssssssin of sortssssss. I presume he'll have some sort of cloak ability, accompanied by a damage over time spell or two. Then again, based on that very crude weapon of his (omg look at his arm, it's creeeepy), maybe he'll be a warrior that klaps people real good!
Whatever the case, he looks like an interesting character. He'll fit into the Battleborn cast just fine!
Last Updated: May 26, 2016