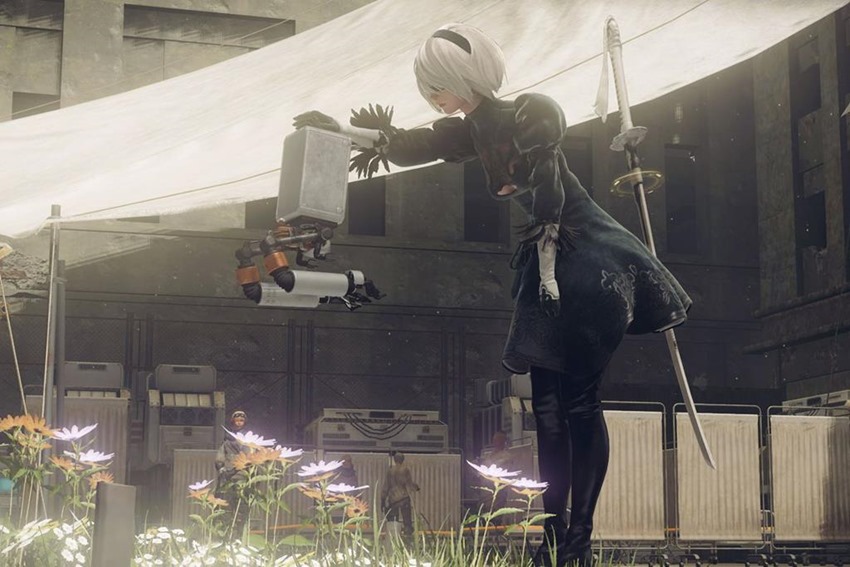 By the various slapstick gods of old, I wish I could claim that headline pun as my own, but I can't. Nier: Automata is widely regarded as one of the finest games to come running out of the gate for some robotic slice 'n dice action back when it was released in 2016. Developed by action connoisseurs Platinum Games, Nier: Automata also had a surprising amount of heart and charm to it. 2B or not 2B? That is the question.
A question which you'll get to answer in the near future, as it looks like the entire game and all of its assorted DLC is getting bundled up into the standard game of the year package. Spotted on the ESRB ratings website, the listing details a PC and PlayStation 4 version of the game:
NieR: Automata Game of the YoRHa Edition
Platform: Windows PC, PlayStation 4
Rating Category: M for Mature
Content Descriptors: Blood, Partial Nudity, Strong Language, Violence
Rating Summary: This is an action game in which players assume the role of androids attempting to save Earth from extraterrestrial machines. Players use swords, spears, lances, and lasers to destroy enemy robots in melee-style combat. Large explosions and realistic gunfire are frequently heard during combat. Some sequences depict blood and additional acts of violence against human-like characters: a man impaled through the chest with a sword, resulting in large blood-splatter effects; character lying in pools of blood after getting stabbed.

Some characters wear revealing outfits with partially exposed buttocks; one male character is depicted nude (without genitalia). The words "f**k" and "sh*t" are heard in the dialogue.
There's no mention there at all of an Xbox One version, so sorry about that lads. Looks like y'all are going to have to be patient. Again. Hopefully this version of Nier: Automata will also be a touch better on PC, as that specific platform release was plagued with numerous problems from day one, which had to be rectified not by Square Enix, but by the fans themselves.
Still, if you missed it the first time, Nier: Automata is well worth a look. Here's what we had to say about it in our original review:
Nier Automata is the game Yoko Taro deserves. While Drakengard and the original Nier are cult classics, I'm overjoyed that he finally has a game with great gameplay to back up his amazing stories. It's the perfect, symbiotic relationship between Platinum and Taro, where the gameplay feeds off the story and vice versa resulting in an unforgettable experience. For the first time in years, I am sincerely, and genuinely sad that a game is over.
I kind of want to play it now. So Nier, so far.
Last Updated: November 23, 2018