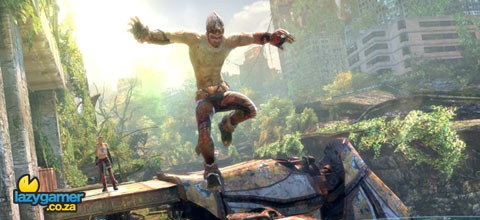 Ninja Theory, the developer blokes behind Heavenly Sword have been quietly hard at work on a brand new title and this time it's coming to the Playstation 3 and Xbox 360.
Enslaved: Odyssey To The West has just been announced and had its debut trailer released and from the looks of things, it could be quite a ride. We also received a press release, and here is a bit of what it had to say about the game.
Enslaved takes players on a gripping, surprise-filled journey as two dissimilar characters form an uneasy union in order to survive their way through a perilous, post-apocalyptic America. A tactical action-adventure game, Enslaved centers on the complex relationship between the two main characters and challenges players to employ a mix of combat, strategy and environment traversal.
This actually sounds like it could be a better version of the last Prince of Persia game that released, you know, the one with all the hand holding.
Hit the jump for the full trailer, including some really odd woman's voice over.
Last Updated: May 10, 2010