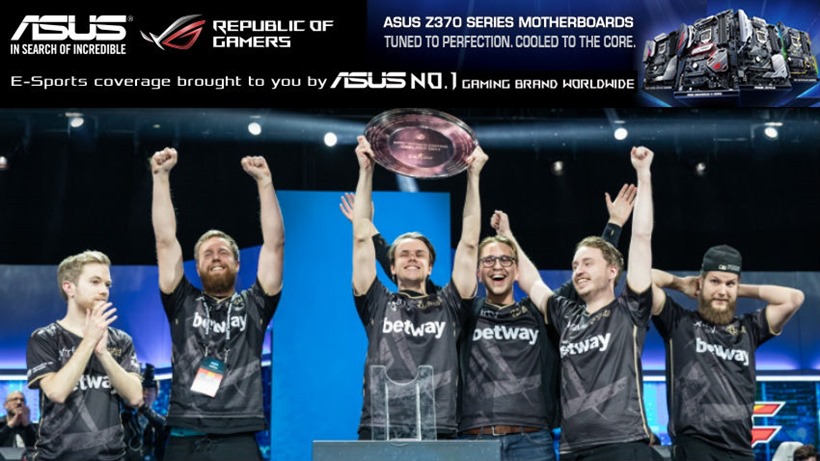 Swedish team Ninjas in Pyjamas (NiP) won their second consecutive IEM Oakland title defending it against a formidable FaZe Clan in an intense best-of-five series last night.
FaZe Clan came into the competition as a favourite for many fans of the tournament, only to be taken down in an incredible series in last night's grand final. As mentioned above, this was NiP's second consecutive win in Oakland, and their first major win of 2017. While both teams played incredible games of Counter-Strike: Global Offensive, NiP's victory in the deciding map on Cache came somewhat as a surprise after they lost hard in map four – Overpass.
Map one sent both teams to the castle fortress Cobblestone, where the Swedes fought from behind to put forward an impressive first half. In a great comeback, after losing six rounds in a row, GeT_RiGhT won a deciding two-versus-one round to pull NiP back into the game. The round boosted the confidence of NiP sending them into a 9-6 half-time score after a strong defence on the B-Bombsite. In the second half it was REZ and F0rest who pulled ahead for NiP attacking the B-Bombsite and pushing NiP to a 16-10.
Next it was on to FaZe's map pick – Inferno. NiP struggled on this map after an impressive comeback in the previous. Luckily for them REZ held his own once again giving the Swedes a fighting chance. FaZe, who came into the competition on the back of extremely impressive months prior to the competition, began to show their true colours. FaZe Clan, with "rain" leading the charge, took a promising 16-7 victory over NiP, sending them to Train.
Train was NiP's pick and it's a map which they're known for their strength. We were once again treated to the F0rest and REZ combo who battled against an equally strong duo of GuardiaN and rain who dominated the first half. While FaZe had a promising first half, the second half saw NiP run away after taking the pistol round. NiP took down FaZe 16-10 to earn a 1 map lead, but that was about to fall apart as they headed to Overpass.
Now that NiP had the lead, it was hoped they would make quick work of their opponents to get a nice 3-1 victory in the series. Unfortunately, that was not the case as FaZe absolutely obliterated NiP in the opening half of their second map pick. FaZe played great CS:GO earning a 13-2 half-time score. The approached the game as any top team would, undeterred by NiP's lead and playing their game. In the second half it seemed as if NiP had accepted their fate and while they tried to push back, FaZe already had the taste of victory and took a 16-6 finish. Their second comfortable victory on their map pick now left a sad feeling in the hearts of NiP fans as the final and deciding map was Cache and FaZe were undefeated on it.
FaZe went in winning the pistol round and setting the tone for the map. Many felt FaZe would once again run away with the first half after their comfortable victory on Overpass. NiP did what they do best – force buy – and began the expected round trades between the two teams. In-game leader Xizt was the star for NiP on the final map, and when your IGL is firing, you know you're in for a great match. Half-time reflected the match perfectly as the score ended 9-6. Xizt held off the A-bombsite almost single-handedly at times, but it wasn't until the second half that NiP truly pulled away. REZ once again kicked off for the Swedes, and despite FaZe trailing close behind, NiP pulled ahead and victory was near.
Karrigan gave his team one last chance with a four kill, but it wasn't enough and NiP went on to take their first big victory for the year.
Like esports?
Check out esports central
Last Updated: November 20, 2017