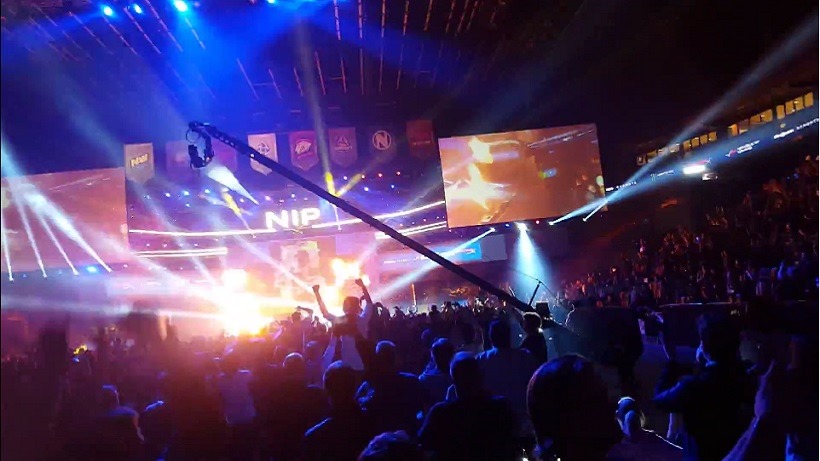 Ninjas in Pyjamas have long been the poster-boys for Counter-Strike. As one of the strongest teams, featuring legends from yesteryear, it's no secret that NiP had fallen on hard times in the past eighteen months. After they parted ways with long-time player Fifflaren, NiP went through three separate roster changes which included the addition of Maikelele and Allu, both of whom struggled to perform when it was needed most. At the MLG Columbus Major, one of their players was denied a VISA, and NiP chose to continue with their coach as a stand-in. This weekend, however, on home soil, NiP had the entirety of their roster at hand, and it was indeed their time to shine.
Natus Vincere was in a similar boat during the group stages of Dreamhack Masters after their star player GuardiaN missed the start of the tournament due to a hand injury, which led to their loss at MLG Columbus, but was cleared by his doctors to attend Dreamhack and joined Navi on their road to the Grand Final.
Thanks to the Chinese Team, Tyloo, the Major Champions Luminosity saw an early exit out of the competition. This placed the pressure on the top teams as it was now anyone's tournament split three ways between Ninjas in Pyjamas, Natus Vincere and Virtus.Pro. Unfortunately for Virtus.Pro they met NiP in the quarter-finals and NiP did what any team with a home crowd advantage would, they crushed them.
In the semi-finals NiP met fellow Swedish team Godsent, and one again as the crowd favourites, NiP closed off an extremely close series between the two teams. On the other side of the bracket Na'vi met the French side EnvyUS, who have also been struggling as of late, and made quick work of the Frenchman offering a promising entry into the Grand Finals.
The Grand Final promised to be a fantastic showcase of CS:GO, with Natus Vincere coming in as the clear favourites with odds of 78-22. What Navi had perhaps forgotten was that they'd, in fact, be facing NiP and their massive home crowd in Malmo, Sweden.
Map 1 – Dust II
Natus Vincere went for a safe bet on the first map picking one they'd been confident on the entire weekend. Starting on the considerably weaker side of Counter-Terrorist, Navi immediately pulled ahead on the CT side in what felt like an accurate prediction of the odds. Luckily for NiP they'd proven throughout the weekend that they are the stronger CT side and when the tables turned they showed their patience and restraint would be rewarded as the pulled the game back.
The round ended 9-6 to Navi, a favourable score on the CT side as they now moved over to their preferred side of Terrorist, ready to close out the game.
Navi took the pistol round on Terrorist but was immediately reset by the famous NiP anti-eco round. This is where NiP began to mount their comeback. Once the scores tied up at 10-10 Navi took a tactical pause to talk things out, only to resume straight into a sneaky 4K (Four kills) by GeT_RighT. NiP now with the confidence needed to close it off to grab their 11th round, when Navi immediately evened out the score line. Tied until 12-12 NiP managed to break their way to map point, sitting comfortably on 15-12. Navi fought back hard, bringing the game to the 30th round, and over time seemed possible, but NiP closed it out taking map one 16-14 in what was one of the closest Grand Final opening maps in a while.
Map 2 – Cobblestone
NiP now fully pumped up burst into Cobblestone taking the pistol round, and succeeding two rounds of the second map. Natus Vincere managed to bounce back taking the first gun round, but NiP soon closed out pulling ahead 7-3 on the Terrorist side. The game began to paint a familiar picture after Navi lost a close game one against Luminosity at the MLG Grand Finals and completely fell apart in game two. However, Navi soon pulled it back bringing a favourable 8-7 finish in the first half.
Navi, in fact, did not stop there as they won the pistol round, only offering NiP one round before Navi settled on 13-8. NiP then managed to pull another round together, but many still felt a third map was on the cards. Again, Navi underestimated just how resilient NiP is on the CT side, and the Swedish team decided to play four on the B-bombsite almost forcing Navi to walk into a trap every single round. Xist from NiP brought his A game and round after round continued to pull NiP through the thick of it. Backed up by incredible plays by f0rest and Friberg, NiP evened out the score line in a blink of an eye. GeT_RighT found himself in a 2v1 with little health, only to face GuardiaN with his AWP, and his fast hands.
Navi took it to 14-12, and again fans had hope that we'd see the third map. Friberg, however, had other ideas as Navi placed more emphasis on A, but a triple kill from him brought the game to 14-13 and forced Navi onto an eco-round. Again Navi pushed A on their eco, only to meet f0rest on the stairwell with a UMP. NiP now tied it up at 14-14, with a flush economy. NiP took the 29th round denying a bomb plant on B, and now a broke Navi had to play the 30th round with whatever guns they could string together.
Needless to say, NiP closed it out, being crowned champions of Dreamhack Masters Malmo.
Last Updated: April 18, 2016