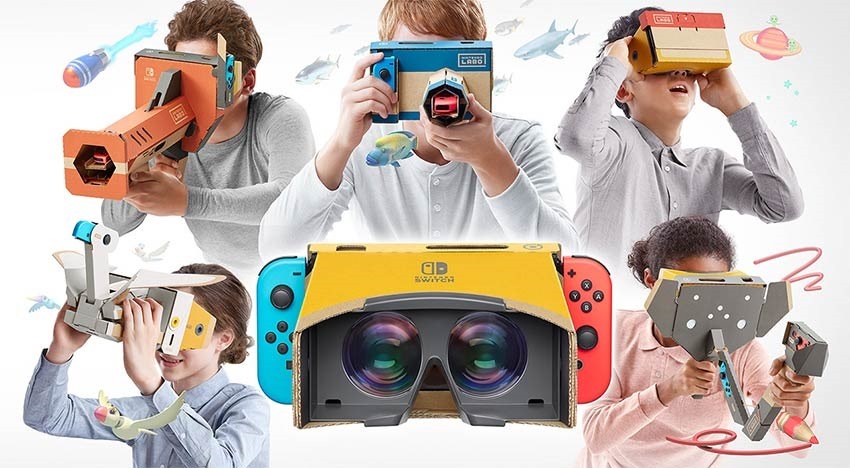 Last month there were rumours that Nintendo would jump into the VR market, somehow using the Switch for Virtual Reality. Surely they wouldn't have you Strap the Switch to your face, as smartphone VR does though, right? Well, no. And not only that but Switch VR – like Google Cardboard – has you building the bracket for it all out of cardboard.
That's right, Switch VR is coming in the latest in Nintendo's build-em-up series of Labo kits. Next month, Nintendo will dip its toes into VR for the first time since the ill-fated, migraine-inducing Virtual Boy released in 1995.
"This new kit builds on the core tenets of Nintendo Labo – Make, Play and Discover – to introduce virtual reality in a way that's fun and approachable for both kids and kids at heart," said Doug Bowser, Nintendo of America's Senior Vice President of Sales and Marketing. "We wanted to design an experience that encourages both virtual and real-world interactions among players through passing around Toy-Con creations."
The $40 kit will include everything players need to build their own Toy-con VR goggles, along with a blaster weapon or two for use wit the accompanying games. There are also to $20 expansions, which add Toy-Con Camera and Toy-Con Elephant, along with a Toy-Con Wind Pedal and Toy-Con Bird. Or get, everything together in a $80 bundle.
It'll be interesting to see if this is used by developers beyond the software included in the package. There are some fun, simpler VR games that could shine on Switch. That said, given how little developers have embraced other Toy con accessories, I wouldn't hold my breath. Unless you're a creator, Labo is fun while you're building it, and the games are fun for about ten minutes each – but what you're generally left with is a cupboard full of cardboard monstrosities.
Last Updated: March 7, 2019