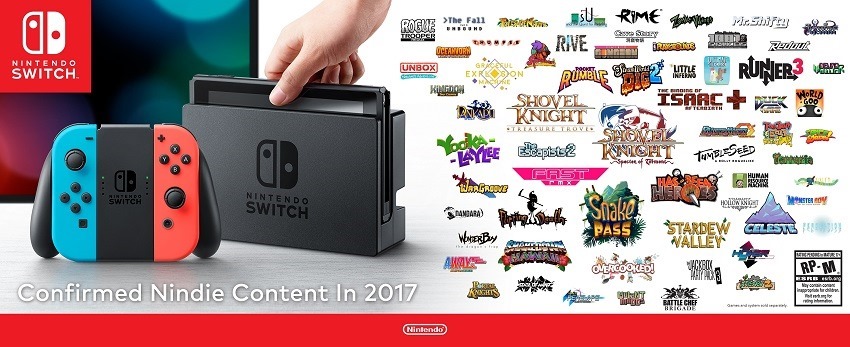 The Nintendo Switch is just two days away from launch, and it's arguably one that has improved since the disastrous press conference in January. The Switch is still missing some crucial bits (Virtual Console support and online functionality details), but for the most part is games department has been steadily getting better. It hasn't drastically changed the launch, but it has filled out the rest of 2017 quite a bit. And yesterday, that was all thanks to indies.
During a special independent games Direct, Nintendo revealed over 60 new indie titles that will be launching on the Switch throughout this year. Many of the titles are ports of existing games, while others are now simultaneous launches for titles previous only on PS4, Xbox One and PC. Not all of them have solid release dates to go along with them, but below is the full catalogue expected to make its way to the hybrid console over the next nine months.
1001 Spikes
Away: Journey to the Unexpected
Battle Chef Brigade
Blaster MasterZero
Cave Story
Celeste
Dandara
Duck Game
Fast RMX
Flipping Death
Gonner
Graceful Explosion Machine
Has-Been Heroes
Hollow Knight
Hover
Human Resource Machine
Ittle Dew 2
Kingdom: Two Crowns
Little Inferno
Monster Boy And The Cursed Kingdom
Mr. Shifty
Mutant Mudds
NBA Playgrounds
NeuroVoider
Oceanhorn: Monster of the Uncharted Seas
Overcooked: Special Edition
Pankapu
Perception
Portal Knights
Redout
Rime
Rive
Rocket Rumble
Rogue Trooper Redux
Runner3
Shakedown Hawaii
Shovel Knight: Specter of Torment
Shovel Knight: Treasure Trove
Snake Pass
Space Dave!
Splasher
Stardew Valley
State of Mind
SteamWorld Dig 2
sU and the Quest for Meaning
Terraria
The Binding of Isaac: Afterbirth †
The Escapists 2
The Fall Part 2: Unbound
The Jackbox Party Pack 3
The Next Penelope
Thumper
Toejam and Earl: Back in the Groove
Towerfall Ascension
Treasurenauts
Tumbleseed
Ultimate Chicken Horse
Unbox: Newbies Adventure
WarGroove
WonderBoy: The Dragon's Trap
Yooka–Laylee
Zombie Viking
Some titles will also feature some sort of exclusivity to the Switch. Stardew Valley, for example, will feature multiplayer for the first time, while Shovel Knight's new expansion, Spectre of Torment, will be an exclusive for a month. Bit.Trip Runner 3 was revealed as a downright exclusive, although it's unclear if this is also just for a certain period. Other notable titles include violent rhythm game Thumper, Steamworld Dig 2, professional divorce instigator Overcooked, and Advance Wars spiritual successor Wargroove.
Is it safe to say there really is no real reason to own a PS Vita anymore? I think so.
Last Updated: March 1, 2017