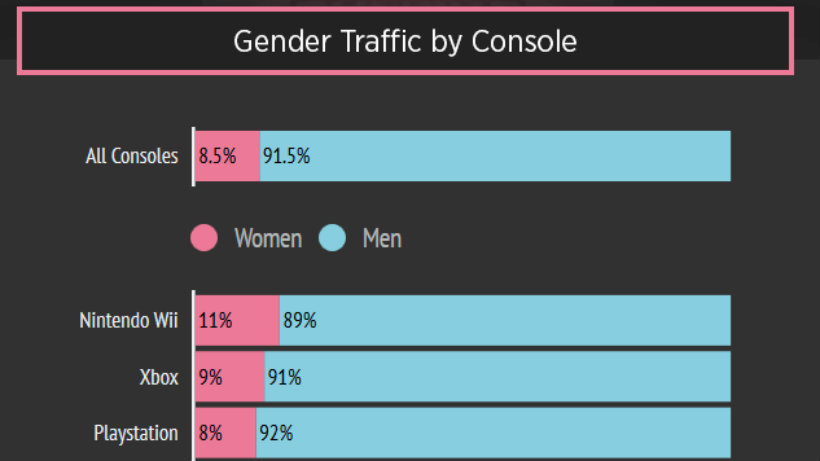 I love when porn sites release statistics about how gamers are accessing their services. We all know porn is abundant – that's the whole purpose of the internet, right? But the fact that people use their gaming consoles to access the porn never ceases to amaze me. Plus, it gives such amusing and intriguing info about what gamers are actually looking for, I just can't help but be titillated.
For the most part, these stats show some similar elements when compared with the PornHub info released earlier this year. However, there are significantly more PlayStation users than Xbox or Wii on the YouPorn platform. I'm curious if that's based on porn purveyor preferences, or if it's an indication of the growth of the PlayStation market share over the course of this year.
Of course, the most amusing aspect of all this is to look at the range of preferences on the various platforms. Xbox users were more likely to search for terms like "halo", "creamy ganging" and "chubby teen" while it seems PlayStation users are bent more towards incest with terms like "mom", "milf" and "step sister" popping up. Most amusing to me were the top five searches on the Wii at YouPorn: zelda, pokemon, hentai shamble, anime and cartoon porn. Those Nintendo Wii porn viewers certainly have unique taste, suppose they want to collect all the shiny videos?
Much like the population of Ashley Madison users, most porn console browsers are male. However, when women do logon, they tend to spend a minute longer on the site than men and also show different browsing preferences:
Women are seemingly really into third-person and content featuring lots of sword play in that they're around 80% more likely to view videos from the Threesome, DP and Romantic categories, and are significantly more likely to search for different kinds of lesbian content as well. Terms like 'lesbian ass,' 'lesbian milf,' 'lesbian squirt,' and 'lesbian strapon' are between 237% and 1186% more likely to be searched for by women accessing YouPorn on gaming consoles than men.
More than anything, I'm just amused by how many people are using their gaming consoles for things other than gaming. I admit, my PS3 is my Netflix device, so I can't really judge. I suppose consoles are the center of the living room entertainment experience; I have to stop being so surprised by the fact that consoles are basically just PCs we attach to our TVs now.
Last Updated: September 17, 2015