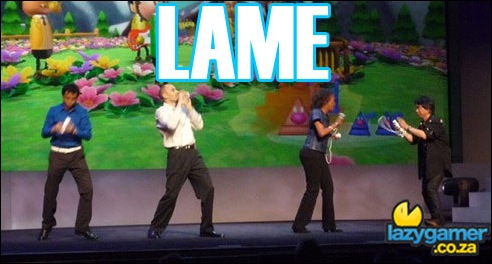 Many of us remember Nintendo's presentation at E3 last year; it left me scratching my head wondering if it all wasn't maybe an elaborate joke. Punctuated by such scenes as an overly enthusiastic Cammie Dunaway, an ill-conceived Wii Music demonstration, and the announcement of Animal Crossing to appease core gamers (WTF, Nintendo?), Ninty's keynote last year was, quite frankly, lame.
This year, Nintendo America's meaty head honcho Reggie Fils-Aime promises a better showing, acknowledging that least year's go was a poor effort.
"From Nintendo's perspective, we always go into E3 with a very high bar wanting to satisfy not only the core fans but also ourselves. We're hoping to do a much better job this year. You'll have to see for yourself."
All of which means nothing unless they give us details of that new Kid Icarus game that's been running around the rumour mill.
Source : Play-tm
Last Updated: April 15, 2009