Listen, I've tried threatening you to give Destiny a bash by threatening to melt your action figures, but you lot are apparently made out of some sort of stern-like stern-like stuff. So what's the next best step into convincing you all to ignore Warframe for once and give Destiny a go? Imitate the enemy and make the game free? Well that could certainly work.
And if you were looking for Destiny on the digital shelves lately, you might have actually seen the original game listed for free. No seriously, it looked like this: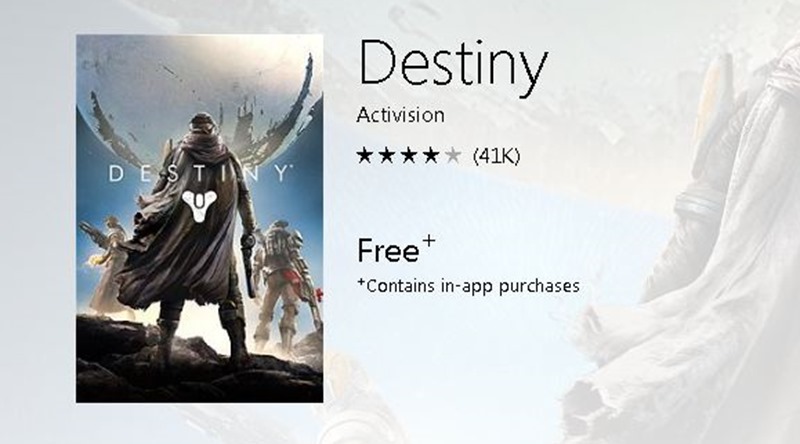 And on the surface, a F2P version of Destiny sounds brilliantly crazy, just like the prices on used cars over at Barry Lipschitz' place. Imagine year one, at your fingertips and ready to be explored before hooking you in with the superb Dark Below, House of Wolves and Taken King expansions. Combined with the un-intrusive Sterling option, and Bungie could have something on their hands on here.
That's not happening. Instead, Bungie confirmed that Destiny isn't switching business models, posting the following statement on their website:
The original Destiny adventure may appear to be free on some digital console marketplaces. While players may download the Destiny base game, they will only be granted access to the Destiny Trial Mode for free. If players wish to progress through the original Destiny adventure via digital download, they will be required to purchase Destiny – The Collection to gain access to this content.
Simple as that then. The Collection mentioned above includes all of the prior DLC as well as the Rise of Iron expansion that ushers in the beginning of the end for this version of Destiny before a proper sequel eventually arrives in 2017. Probably. So for those of you who were concerned that you'd be seeing a lot more prompting to buy Sterling packages in Destiny, relax and stroke your favourite Exotic then as nothing is changing.
Yet. DUN DUUUUN DAAAAAAAAH! Question still remains though: Would you ever consider trying a properly free base game version of Destiny?
Last Updated: August 24, 2016