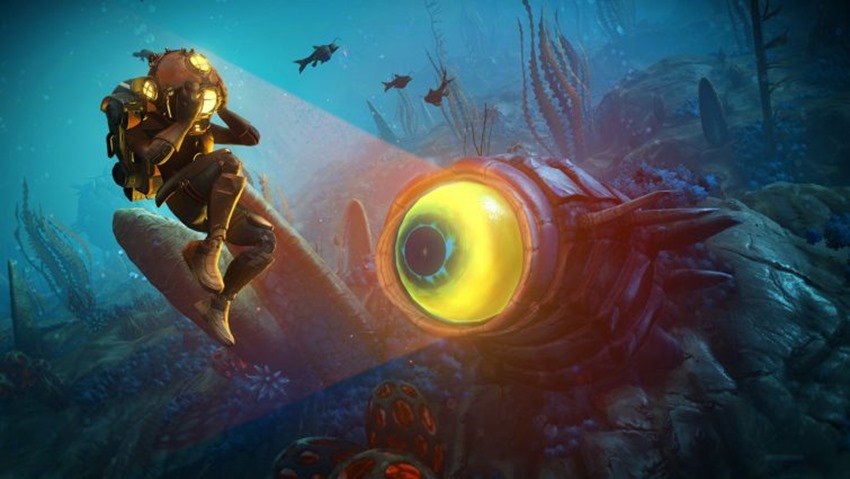 No Man's Sky may not have been the space-knees of the space-bee when it first launched in 2016, but a few years later and Hello Games' passion project definitely was better. Not perfect mind you, but definitely a step in the right direction for those fans who had fallen in love with the idea of exploring a wide cosmos and building a new life out in the stars.
Fixing plenty of gripes and adding a stack of new content, No Man's Sky now exists in a far healthier state, although I'd pay so much money if something could be done about the game's awful user interface which makes absolutely no sense at all. Anyway! A few months after its meaty relaunch, No Man's Sky is still trotting out new content, and today sees a substantial slice of free content arrive in that corner of the cosmos.
Called "The Abyss", the new DLC focuses on going under the sea, which according to a magical Jamaican lobster I once saw on TV, is brilliant. Apparently it's better down where it's wetter and that's about as much as I can say without having my pants sued off by a corporate juggernaut mouse. New story, new building modules and treasure awaits anyone who ventures into the Abyss of No Man's Sky. Here's a trailer and a breakdown of what's inside the DLC:
Aquatic Missions and Narrative
A new story, The Dreams of the Deep, brings a new context to the depths and a dark narrative to No Man's Sky. Players are invited to discover the fate of a troubled crew stranded from a freighter crash by the rising tides or explore underwater ruins to uncover the tale of a lost soul trapped deep beneath the waves.
Submarine Vehicle
Master the depths of planets using a new Exocraft, the Nautilon. This submersible vehicle gives new meaning to underwater navigation, combat and mining – and can be summoned to any ocean on the planet, as well as docked at underwater buildings. Players can upgrade the submersible with installable Submarine Technology and customise the Nautilon to stand out from their fellow explorers.
Submersible Building Modules
More than a dozen new base parts have been added to unlock more creative possibilities underwater. Players can construct the new Marine Shelter for brief respite from the oceanic pressure, and use its protection to reach new depths. New glass corridors, viewing bays and multi-storey submersible view domes provide travellers the perfect view of the surrounding ocean. Players can now bring their aquatic life into a habitat with a decorative indoor aquarium.
Flora and Fauna
The variety and visual quality of underwater biomes has been greatly improved. Players can now experience rare exotic aquatic biomes as they explore new depths. Underwater creatures have become more frequent, and more interesting. Aquatic life inhabits the full depth of the ocean, and unique terrifying creatures can be encountered on the ocean floor.
Sunken Wrecks and Ancient Treasures
Investigate sunken ruins and find ancient treasures or dive to submerged buildings to find remnants of their lost occupants. Discover and scavenge lost cargo from gigantic freighter wrecks. Use the terrain manipulator to excavate treasures buried in the nearby ocean floor. Find and repair rare crashed star ships to restore them from the seabed to the skies.
I hope James Cameron doesn't get upset. The Abyss will unlock later today, and follows in the footsteps of the NEXT update that made the game prettier, deeper and added multiplayer.
Last Updated: October 30, 2018