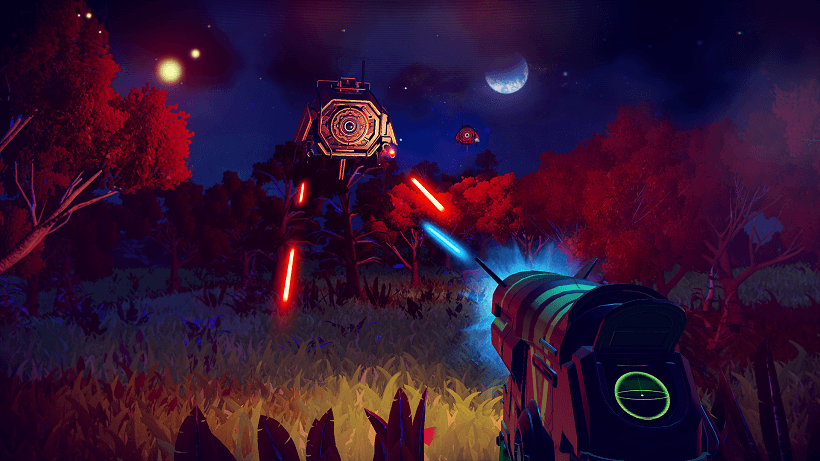 No Man's Sky is fast approaching launch and is ensuring that the fairly quiet month of June is one to look forward. And for a game that is around two months away from launch, there's still a surprisingly large number of people that have no idea what you actually do in No Man's Sky. You fly around, explore planets, shoot stuff. But how do all of those things fit together cohesively?
It's a concept that has proven difficult for creator Sean Murray and his team at Hello Games to showcase in demos, which is why IGN have decided to give them another month of coverage to try again. That kicked off yesterday, with a brand new 20 minutes of gameplay footage for you to sink your teeth into.
Most of the footage is land-based, which is where you're going to be doing most of your exploring. Using your vast array of upgradable terramorphing tools, you'll be able to shape the landscape and find new, previously inaccessible areas. A little into the demo Murray shoots a wall that reveals a maze of caves underneath the planets surface. A new area to explore, and an escape for the deadly cold outside too.
There's also a closer look at some of the more mysterious features of No Man's Sky, such as learning alien dialects and trading with some randomly generated fellow to keep your explorative ambitions alive. There's still not enough time to go into much depth with it all, but that's partly because Hello Games doesn't want to show its hand yet. Murray wants players first experience with No Man's Sky to be about discovery, so they're cautious about what they show.
Regardless of that though, No Man's Sky still looks as ambitious, curious and gorgeous as the first time the game was revealed, and I can't wait to explore millions and millions of planets later this year. It's coming to PS4 and PC.
Last Updated: April 12, 2016