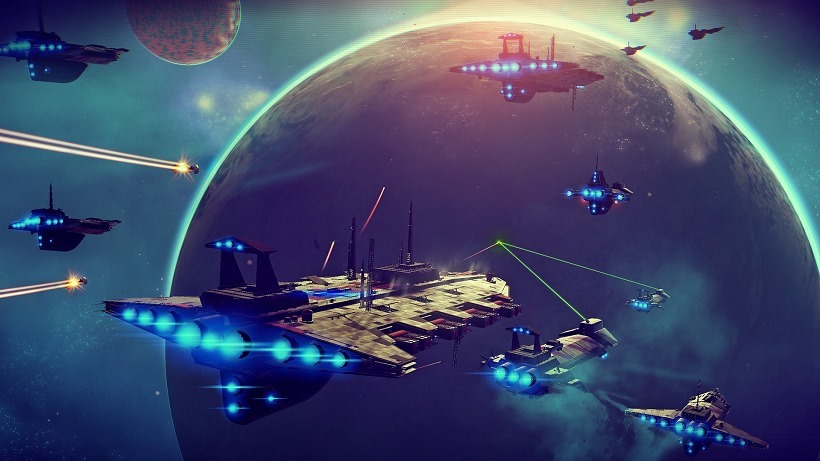 No Man's Sky will inevitably go down in videogame history as a lesson to game developers, consumers and media alike. The game's whirlwind of pre-release hype enveloped it in a monster that couldn't be stopped, with Hello Games unable to deliver on many of the features that sold consumers in the first place. There's a discussion around who is at fault here, but the fact of the matter is that No Man's Sky was sold with trailers and screenshots that simply aren't from the game.
And now, they're being investigated for it.
The Advertising Standards Authority, or ASA, has confirmed to Eurogamer that they've launched an investigation into No Man's Sky and its marketing, after receiving numerous complaints from customers. The investigation seems squarely focused on Steam, where No Man's Sky is still being sold with assets that clearly aren't representative of the final game (just like that header image). The aim of the ASA is to thoroughly determine if that is true, after which they can take action.
But this isn't the type of massive class action lawsuit stuff that you might be expecting. If found guilty, the extent of the damage Hello Games will face is likely a legal document forcing them to take down old screenshots and trailers (across all storefronts), replacing them with more representative materials for the game being sold. According to one of the complainants on Reddit, that's all he really wanted when lodging the call to the ASA.
AzzerUK was one of the people who contacted the ASA, and is quite pleased that they're looking into the matter. AzzerUK isn't looking for a refund (and hasn't even applied for one), and generally does not think No Man's Sky is a horrible game. He does, however, feel the game is being sold on false promises with its current store marketing, and hopes that the ASA will help prevent future customers from being burned.
"I figured that if we want Steam store pages for games to start falling in-line and stop misleading consumers, then it would take consumers to point these problems out to the ASA, rather than all sit around on Reddit complaining to each other but assuming that it'll all get sorted by itself eventually."
Of course, some would like to see things go further. Hello Games certainly have kicked a hornets' nest since launch, and players from around the world have sought full reimbursement for their purchase and heavy penalties against the independent developer. Hello Games is definitely not innocent, but I think the issue surrounding that is also a little less black and white. The ASA isn't there to punish Hello Games, but if it means more honest advertising, I'm all for it.
Last Updated: September 29, 2016