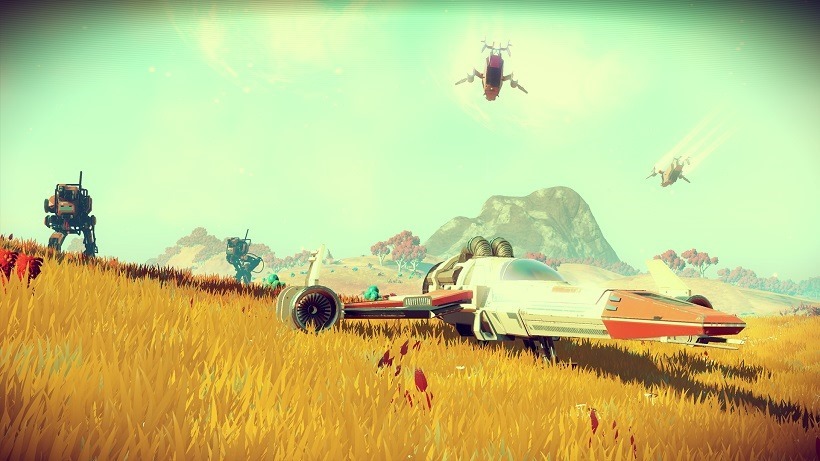 As you'd probably heard, rumours swirled last week after Kotaku reported that hey had uncovered evidence of an imminent delay to No Man's Sky – the incredibly ambitious space exploration title from Hello Games. What you might have missed (given it's incredibly strange timing) was the official announcement of this. Yes, No Man's Sky is no longer coming in June. Instead, it's taking a few weeks to polish itself up, and that's ok.
Creative Director on No Man's Sky confirmed the reports late on Friday with a post to the PlayStation Blog, explaining that while development was going extremely well he feels the team needs just a little more time.
The game really has come together, and it's such an incredible relief. As we sit an play it now, and as I watch playtesters every day, I can finally let myself get excited. We're actually doing this.

However, as we approached our final deadlines, we realized that some key moments needed extra polish to bring them up to our standards. I have had to make the tough choice to delay the game for a few weeks to allow us to deliver something special.
This of course is a massive disappointment for those looking forward to the game in just a few short weeks, but it's by no means a train smash. The game is still coming on August 9 and 12 (for USA and UK respectively), which means it's not even a full two months more. Of course in typical internet fashion, people got pissed. As in, send death threats to the man in charge of making the game you so desperately want to play pissed.
I have received loads of death threats this week, but don't worry, Hello Games now looks like the house from Home Alone #pillowfort

— Sean Murray (@NoMansSky) 28 May 2016

This is just the tip of the iceberg, as Kotaku writer Jason Schreier received even more obscene message last week after reporting on the rumour.
What it's like to write about video games on the internet: pic.twitter.com/a4yRcGMbsA
— Jason Schreier (@jasonschreier) 27 May 2016
The reality is that games get delayed, and coupled with the reality of so many titles shipping with issues now this should come as a relief. Sean Murray and his team have been working for years to make No Man's Sky live up to the enormous expectation it garnered nearly three years ago. A couple of weeks isn't going to hurt.
No Man's Sky is out on PS4 and PC in August.
Last Updated: May 30, 2016