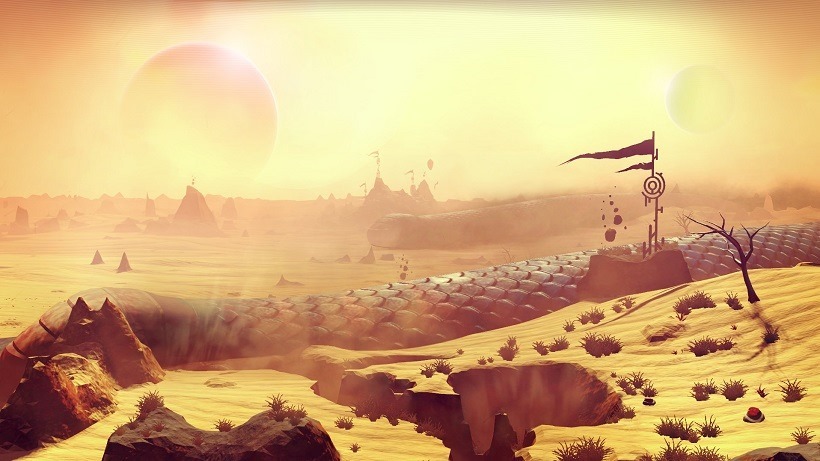 No Man's Sky is unbelievably only weeks away from launch, as developers Hello Games prepare for one of the most anticipated game launches in recent memory. No Man's Sky has years of hype behind it to deliver on, presenting an unimaginable number of planets to explore, vistas to drool over and encounters to experience. It goes without question then that you'll be creating your own adventures rather than experiencing one linear one here, but there's going to be a mountain of lore for you to sink your teeth into too.
Game Director Sean Murray touches on this in a new video for the game, explaining how so much work has gone into contextualising the game's randomly generated planets and architecture. When someone plays No Man's Sky, Murray and his team want them to feel like they're exploring lands touched by different civilizations – which presents its own problems when you're thinking about 18 quintillion different types.
No Man's Sky wants to be rich in some of its background lore, and has hired some expert help to do so. Dave Gibbons might be better known for co-creating Watchmen (and criminally underrated for it), but it's his work on 2000 AD's Rogue Trooper that probably drew Hello Games to work with him. He is joined by Star Trek and Deus Ex writer James Swallow, as they aided hello Games in crafting the game's sci-fi lore and loose narrative.
They're also penning a comic titled Adventures of No Man's Sky, which will be shipping with the Limited Version of the game. The comic seeks to flesh out some of the history behind the space exploration you'll find yourself engaging with, and should be high quality stuff if Gibbons and Sparrow are two people to trust.
No Man's Sky is racing towards its June release, launching exclusively on PC and PS4.
Last Updated: April 29, 2016