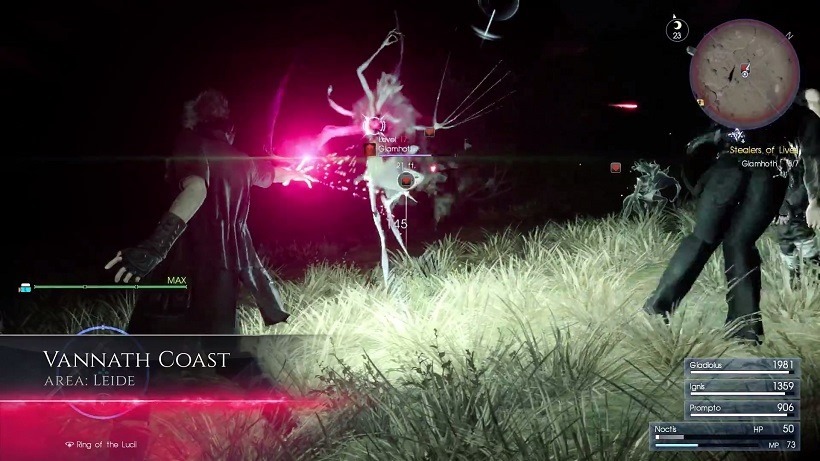 Oh what could've been. Now that we're into October, we could've all been playing Final Fantasy XV. But it just had to take that little delay extra, as Square Enix brushes it up as best they can to deliver what will hopefully be a satisfying, rewarding experience for eager series fans. Personally I'm just hoping for a good game in the end, one that will allow me to be the little mystical Sith Lord that Noctis likes impersonating in this new trailer.
Direct from TwitchCon is some brand new footage of Final Fantasy XV, showing off Death Magic for the first time in the title. Death Magic isn't new to the series, but it is the first time we're seeing Noctis actually use it in battle. To commemorate that, Square Enix has put together a montage showing some of the havoc that it can cause. Enemies warp in shape as Noctis drains the life from them – like some devil with ridiculous amounts of hair gel.
Visually, it's a spectacle. The red and black lighting gives an all new feel to the cast of otherwise likeable characters. To use Death Magic as Noctis, you'll need to come across the Ring of the Lucii, which allows you to suck the life out of anything and everything in front of you. Despite being rather evil, it does look incredibly handy, especially if you're just hunting in the wilderness and need a little boost before continuing.
The footage also shows off a lot more of the enemies that Noctis and Co. will be up against, including a first look at the fearsome Bandersnatch. There're bound to be many more mysteries for players to unravel when the game finally goes on sale next month, for Xbox One and PS4. It's been a long wait.
Last Updated: October 4, 2016