The Dota 2 International Main Event kicks off today, and that means our coverage will begin as the world's top 16 Dota 2 teams battle it out for the biggest prize pool in eSports history – a whopping $20 million. We will be throwing around a lot of big words which might make no sense, so allow us to offer a guide to spectating the international, and why it's important that you follow one of the largest events in our modern eSport history.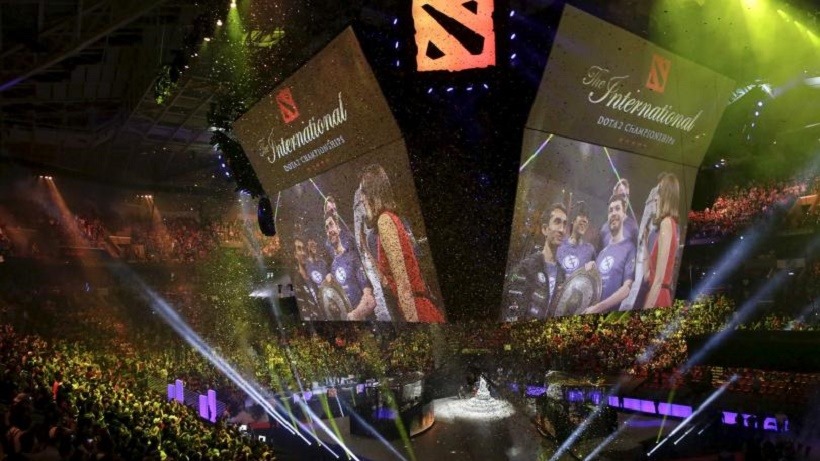 Here's a photo from the Seattle Key Arena after Evil Geniuses won the Dota 2 International 2015.
TL;DR – 16 Teams of five players (and a coach) will enter the Seattle Key Arena to battle it out in a virtual world known as Defense of The Ancients. There will be thousands of people attending live, and millions tuning in online. But let's dig deeper.
Know the terms
MOBA – This stands for Multiplayer Online Battle Arena, and this is the subgenre of eSports under which Dota 2 falls.
Heroes – Each teams selects bans five heroes, and picks five heroes at the start of the game. These heroes remain throughout the game and cannot be changed. Each hero has a very specific role, some support and some damage. They work together to as they push towers and destroy the enemy base.
Lanes and Towers – There are three lanes which run on the left, middle and right of the map. As you move up these lanes the aim is destroy towers which defend you (and your enemy) by lobbing rocks and blue magic balls at you. Once you defeat all three towers in a lane you will enter the enemy base where you will need to defeat the final set of towers, once taking down the barracks which spawns creeps.
Creeps –  These little critters populate the lanes every few minutes coming out in waves of  5, with an extra creep arriving every few minutes in the form of a siege tank. Your hero can kill the creeps for gold and experience, which allows you to buy items.
Items – Items are purchased by Heroes to better their characters. These weapons offer damage, abilities, health, or mana, which is a resourced needed to perform abilities.
Abilities – Each hero is specific in their abilities which aid them to take down opposing heroes of creeps. The abilities are often combined massive team fights (this is where the commentators lose it, usually).
Dire and Sentinel – Dire are the bad guys, Sentinel are the good guys.
GG – this stands for "Good Game" and is often said once the game ends.
Roshan – Roshan is a "boss" which you can fight for an item called Aegis of the Immortal which allows one player to immediately resurrect in a team fight. This is often given to an important hero who's pertinent to your victory.
Gabe Newell – Lord GabeN is the Deity which all heroes worship. He is to be feared and respected at all times throughout a game. Often players will give thanks prior to a game. (this is not true)
Tournament format
Over the past weekend the Dota 2 International went through their group stages which saw the 14 invited teams with the two wild card spots added into two groups of 8. Here they played a round robin where seeds were determined. They were then placed into a double elimination bracket with the top four in each group being placed in the upper half of the bracket, and the bottom four being placed in the lower bracket.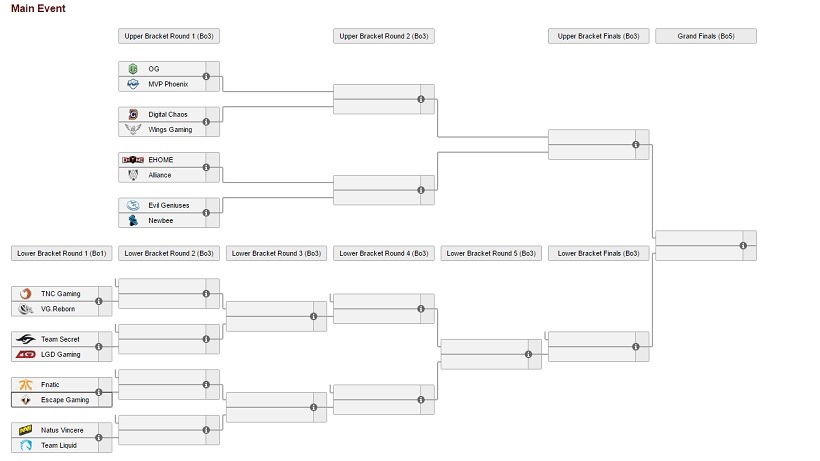 The 16 teams will now battle it out in the upper and lower bracket, where a loss in the lower bracket means you're going home. All games in the upper bracket of best out of three, which means you player three games, and need to win two in order to advance. The lower bracket are best of ones, which means you only have to win one. If you lose in the upper bracket, you are knocked down to the lower bracket.
Where to watch
All games will be live streamed to Twitch tv on the offical Dota 2 International channel. If you have shoddy internet and really want to watch the Dota 2 International, you still can. All you need to do is download the Dota 2 client and you will be able to spectate in game. Of course, this is a pretty large file download, so you better get started.
The streams are quite in depth and not really noob friendly, and this year we couldn't find a beginner's stream, but we hope this guide has given you a little bit of insight into the largest eSports tournament ever.
Like esports?
Check out esports central
Last Updated: August 8, 2016