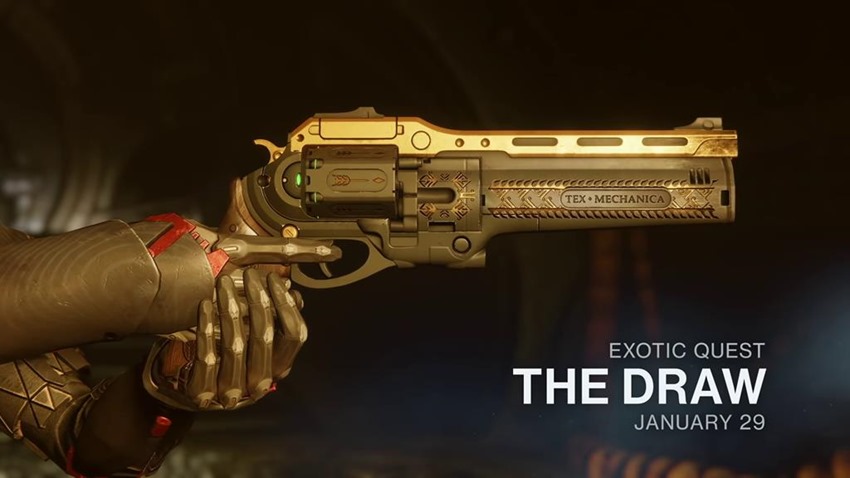 There are guns in Destiny, and there are guns in Destiny. With an ecosystem of weapons that reads like a wet NRA dream, Destiny 2's selection of guns are brilliant pieces of wonderfully broken power, offering Guardians top-tier death-dealers if they're willing to work towards them and pray that RNGesus smiles on them whenever a new Exotic engram drops into their inventory.
Some of Destiny 2's finest guns go above and beyond being mere extensions of a Guardian. Some guns have history, legends attached to them that echo with every bullet fired. Destiny's best Exotic may not be the most powerful gun around when compared to the ludicrous firepower of Riskrunner or the Gambit-breaking weapon of choice for Invaders known as Sleeper Simulant.
But it certainly is a gun with the most interesting history out of all the storied weapons in Destiny 2. A story that is making a return, as The Last Word is finally coming home:
Available next year as part of a new quest, The Last Word joins other new Exotic weapons such as the recently revealed Izanagi's Burden, Jötunn, Le Monarch and Anarchy. If this is your first time hearing of The Last Word, then you've missed out on a grand tale of revenge, centered around two of Destiny's most infamous hand cannons. A tale of gunslingers drawn to each other by fate, the story of The Last Word is one that ends with Dredgen Yor lying in the dirt, corrupted by the darkness within of the Thorn and finally put down for the count by a single bullet.
Not too dissimilar from how Destiny: Forsaken ended, when you think about it. As for the infamous hand cannon itself? It was a cool piece of iron in Destiny, one that was capable of being drawn unbelievably quick and unleashing a volley of high impact rounds within a nanosecond. Plus that reload animation was to die for oh my yes.
The Last Word is going to have its work cut out for it when it does return however, as hand cannons such as Crimson and Ace of Spades have risen up to become treasured torchbearers for that category of gun. Still, just having that piece of history will be well worth the effort. Destiny 2's new Black Armory content goes live tonight after the weekly reset. I'm really hoping that I can snag that fancy new Jötunn fusion rifle.
Last Updated: December 4, 2018