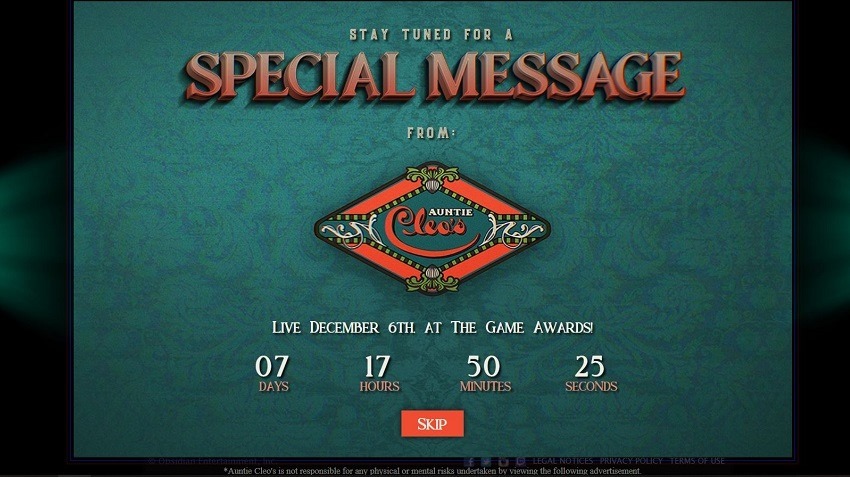 Obsidian Entertainment is a hot name in the business right now, having released their sequel to Pillars of Eternity earlier this year and now being under the same roof as Microsoft after their acquisition a few weeks ago. It's unlikely hat we're going to see anything from that deal surface in a while, which made the announcement that Obsidian would be revealing something at The Game Awards next week curious. Turns out that it's not only a new IP, but that Obsidian will be publishing the game with Take-Two's Private Division – and not Microsoft.
The deal, which was previously announced this time last year, included a handful of developers working with Take-Twos first studio focused publishing house for direct access to developers. The game which Obsidian is teasing doesn't have a name yet, but it's got a familiar art-deco, nostalgic feeling to it that could remind you of anything from Fallout to the recently rebooted Prey. It does seem to have a space influence though, with one image showing a particularly sci-fi pistol that just screams futuristic tech.
Hmmm… anyone else getting those ads on https://t.co/i158nrCxBL???

— Obsidian (@Obsidian) November 28, 2018
The countdown on Obsidian's website points towards The Game Awards as the stage where we'll hear more about the project, making it one of the ten new game reveals promised at the show. Given that publishing isn't being handled by Microsoft, it's safe to assume that whatever this game ends up being it won't be exclusive to their platforms. Unless it's another PC-focused RPG, you can likely expect to see Obsidian's latest work on PS4 too. Their work with Microsoft has only just begun, so perhaps whatever comes next will be the first to start restricting where it launches.
Irrespective, I'm excited for the prospect of Obsidian making another RPG, considering they created one of the best Fallout games to date. The Game Awards takes place on December 6th and will be streamed live.
Last Updated: November 29, 2018