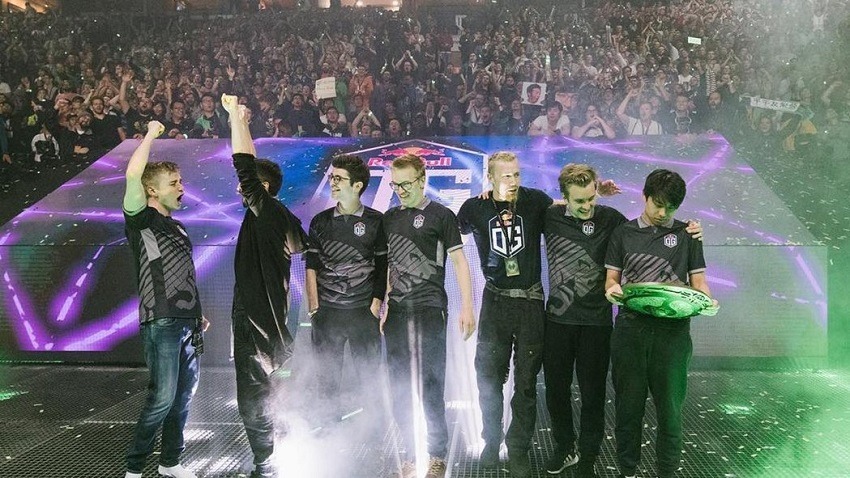 The International is really the only DOTA 2 tournament I watch every year, but there's no question that the event's Grand Finals have been lacking lately. Last year the series was shut out by a dominant Liquid in a 3-0 whitewash, while none since The International 3 have forced the full five games possible in the series. That match-up included the best finals yet, with arch-rivals Na'Vi and Alliance producing a thrilling five games that I still recall gawking at to this day. This weekend OG and PSG owned LGD did battle, and I'm inclined to say it was even more riveting.
OG, a strong but deeply disrupted team who weren't even invited to The International, forced LGD to a five-game series before claiming victory (and over $11 million in winnings) in a heart-pounding series with more twists than you could possibly count. The first three games had clear victors, with OG striking first blood in a dominant first game before LGD replied in kind with games two and three. Game four was where things got really ridiculous. LGD looked poised to claim victory with a strong start, forcing OG into their base and even taking out two lanes of racks. But OG wouldn't give in. From the brink of death, they positioned themselves perfectly in a string of incredible team fights, eventually pushing LGD back and forcing the series to a single game showdown.
Perhaps as part of the plan, OG struggled to find a foothold again in the last game, with LGD steamrolling them early and commanding a 13-4 kills lead as early as 12 minutes in. It looked like OG was spent, with all of their strength exhausted in the previous game. But their resilience came through in the late game, eventually culminating in a pattern breaking win that edged the Chinese winners on an even-numbered International for the first time ever. It was magical stuff.
To understand what a win this was for OG, you have to understand the turmoil their team saw in the past few months. OG was formed by seasoned DOTA 2 players and public best friends Johan "N0tail" Sundstein and Tal "Fly" Aizik, who have seen massive success in the scene's Major events preceding the International. OG have claimed four Major wins, but before the latest event the strangest chain of events saw them not even competing. Hours before boarding flights to leave, mainstays Fly and former Alliance player Gustav "s4" Magnusson departed the team without warning, joining rivals Evil Geniuses to compete in the Major. OG couldn't attend as a result, and now needed to fill two spaces with weeks left before The International.
They did that by recruiting their own coach, a retired player by the name of Sébastien "Ceb" Debs, and brought in former member Anathan "ana" Pham for good measure. Following the departure of Roman "Resolut1on" Fominok in March, OG still had a slot to fill, which they did with a completely unknown player in Topias "Topson" Taavitsainen. Surely this last-minute team shuffle would mean OG would struggle, but the complete opposite was true.
OG dominated in the Main Event, taking their Upper Bracket qualification right to the end. They dispatched to-be Grand Final rivals LGD and even faced Evil Genius in a personal match-up that saw N0tail and Fly fighting on opposite sides of the field. Possibly no one in attendance will forget the glare N0tail cast towards his former teammate after they emerged victorious, with the bad blood between the two seemingly not being mended yet. OG reached the Grand Finals almost easily, setting up a rematch with LGD who fought back in the Lower Bracket.
It was a ridiculously entertaining week of DOTA 2, and possibly the most exciting International yet thanks to a flexible meta making games fast, unpredictable and open to super experimental strategies. OG will attempt to be the first team ever to defend their title in next year's installment, as The International 9 heads to a new continent and will be hosted in Shanghai, China.
Like esports?
Check out esports central
Last Updated: August 27, 2018