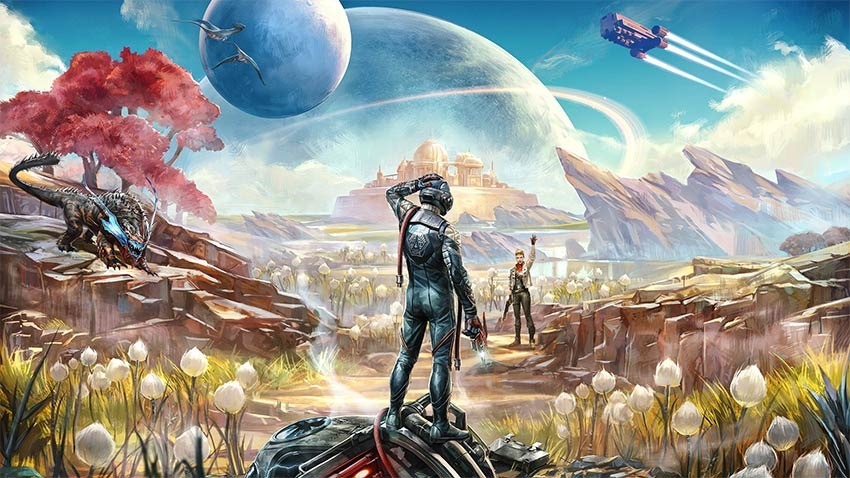 The Outer Worlds, the upcoming Fallout-esque RPG from developer Obsidian will hit consoles and PC on October 25. As a wholly single-player adventure RPG, it's something that got my interest piqued. Yesterday, reports swirled around the internet that the game would be enhanced on the Xbox One X, but not feature similar mid-gen upgrades on the PlayStation 4.
The conjecture then, was that Obsidian, recently having been acquired by Microsoft, put all of its efforts into making the Xbox One X version shinier, while leaving PS4 Pro owners to eat space dust. Reports suggested there would be "no enhancements for PS4 Pro" It turns out that's not quite true.
The game's publishers, Private Division (Take-Two Interactive's new indie and experimental label), took to Twitter to correct that bit of misinformation.
"The @OuterWorlds is enhanced for both Xbox One X and PS4 Pro. It includes 4K textures and resolution on Xbox One X and PC, and upsamples to 4K from 1440p on PS4 Pro. It looks great across all platforms and we're excited for players to experience The Outer Worlds on October 25th."
That all said, PC and Xbox gamers are still at an advantage, because the game is launching on day 1 on Game Pass on those platforms, meaning Xbox and PC gamers can play the game for close to free, while PS4 owners have to shell out full price for the 40-or-so-hour RPG.
The game is also coming to Nintendo's Switch (without any enhancements, obviously), though you'll have to wait a while to play it portably, as that version's only coming later.
The Outer Worlds is being directed by Tim Cain and Leonard Boyarsky, the creators of the Fallout series. Here's the deal:
"Lost in transit while on a colonist ship bound for the furthest edge of the galaxy, you awake decades later than you expected only to find yourself in the midst of a deep conspiracy threatening to destroy the Halcyon colony.

As you explore the furthest reaches of space and encounter a host of factions all vying for power, who you decide to become will determine the fate of everyone in Halcyon. In the corporate equation for the colony, you are the unplanned variable."
It is, as they say, "my jam."
Last Updated: October 17, 2019